GMS Field Trip
If you have any questions about field trips send email to
GMS Field Trip
Agate, Jaspers, Ooliths, Petrified Wood, Fossils, and Pie!
in Alabama
Saturday, March 14, 2020
Agates and jaspers and wood – and pie! Yes, GMS members celebrated Pi Day GMS style – with a field trip to a gravel quarry and, of course, pie! Once we satisfied our collective geek tooth with some transcendental home-made pies, we gathered to learn about the quarry from Steve, the company geologist. He explained that it is primarily a sand quarry, though they also process some gravel. The story of how the sand and gravel ended up there is a fascinating lesson in geology. Steve described the entire process including the unusual geology that contributed to the deposition of sediment. At first glance, one would assume that a meandering river nearby deposited the sediment. But, when continents collided to form North America, they created a perfect arrangement of weather resistant rock that impeded the river which caused a natural dam that in turn caused a flood plain where sand accumulated. Later, the river naturally meandered through, but it didn't cause the large deposit of sediment, the unusual geology did.

With plenty of geology to think about, we prepared to collect. Bob, the quarry manager, gave us site specific training to make sure everyone was safe. Then we had one more bite of pie (it was irrational, but we had to do it) and caravanned into the quarry. Looking through the gravel piles, the unusual geology becomes more apparent. There is a variety of composition in the gravel you don't usually see. The jaspers and agates you would expect are there, but we also saw granite, mica schists, tourmaline crystals inside quartz, and we even saw some feldspar. There were sedimentary structures that Steve explained as areas where sediment was scoured, filled in with more sediment, then weathered again, revealing the scoured areas.

There is some petrified wood there, but it is scarce, and other fossils are even scarcer. Still, field trip attendees found both. The petrified wood is hard to determine with many "maybe" pieces, but I saw a few that are more than "maybe". Diana Poppelreuter found the first indication of marine fossils with some crinoid impressions. Then David Bruce found a spectacular piece with bryozoans stacked layer upon layer upon layer. He also found what appears to be some burrow traces, though we have yet to confirm that. Other attendees said they found a few fossils too.

The youngest attendee, TJ, found the best agate we have seen there, as well as a superb little geode with clusters of pink quartz crystals. Diana found the tourmaline crystals and the feldspar as well as a specimen with colorful banding. I found mostly oolitic material, but on my quest for ooliths, I also found a piece of chert with tiny rhombohedral voids. Steve identified the voids as places where calcite had weathered away. Cameron Clines found a funny concretion that earned him the honor of finding the "crappiest" rock of the day.

Charles brought an 8 inch saw and a cabbing unit. He cut and polished specimens for everyone on the spot! It was great being able to see inside pieces and seeing beautiful polished pieces right after they came out of the piles!

Quarry employees were incredibly accommodating. Bob allowed us access to as much gravel as we wanted. He and Steve even searched the piles with us. They gave us many curious pieces to ponder as well as specimens for the GMS collection. Everyone had a great time and we have been invited back, so we are looking forward to another trip.

Many thanks to everyone who made this a perfect Pi Day trip -- the quarry company, geologist Steve, quarry manager Bob, pie makers, Charles, people who brought pie, field trip attendees, Archimedes, Larry Shaw, and last but not least, the clever cook who first thought to make a pastry shell and fill it with delectable delights!

Lori Carter
On behalf of Charles Carter, GMS Field Trip Chair
e-mail:

Photo by Lori Carter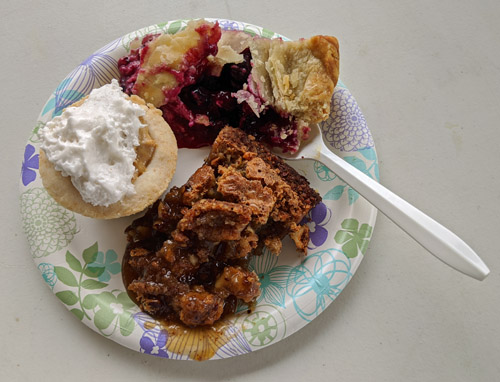 Enoiugh to satisfy even the geekiest of sweet tooths on Pi Day!
Photos by Lori Carter
Looking through the gravel
Photo by Lori Carter
TJ found a beautiful agate...
Photo by Lori Carter
...and this geode with clusters of pink quartz!
Photo by Lori Carter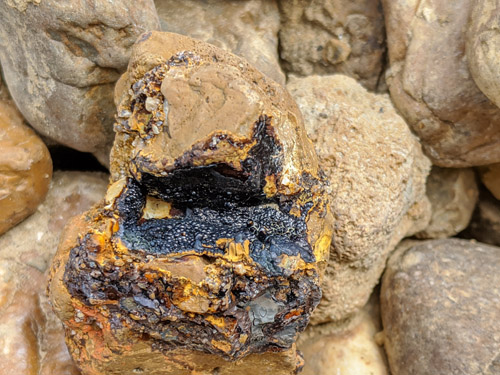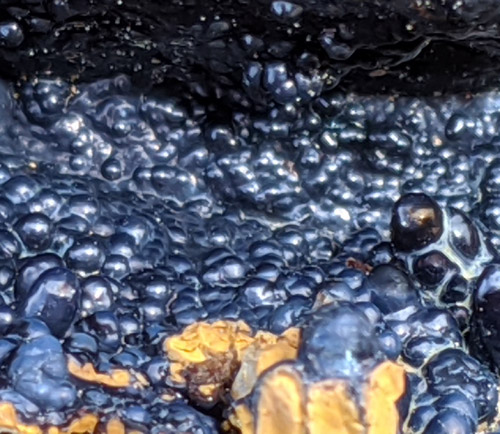 David found this gorgeous botryoidal specimen
Photo by Lori Carter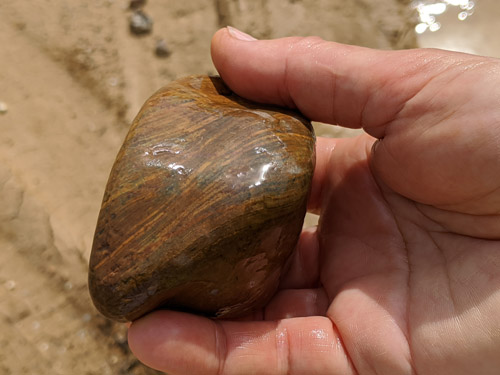 Diana found this piece with colorful bands (photographed wet)
Photos by Lori Carter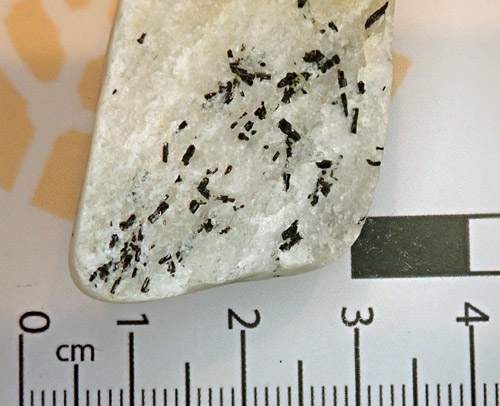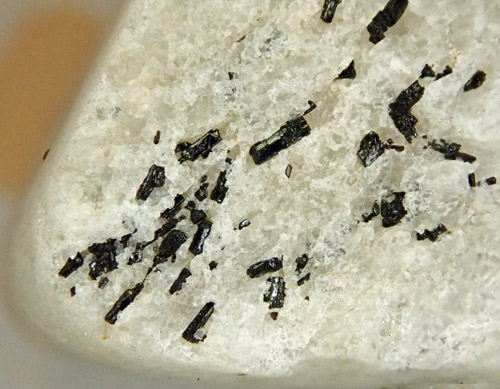 If this quartz pebble hadn't broken open, Diana wouldn't have seen these tiny tourmaline crystals
Photo by Lori Carter
Cameron won the "crappiest rock of the day" award
Photos by Lori Carter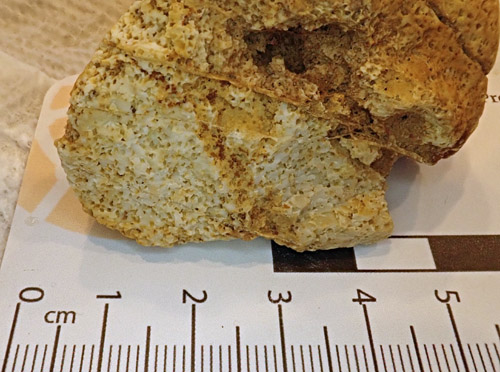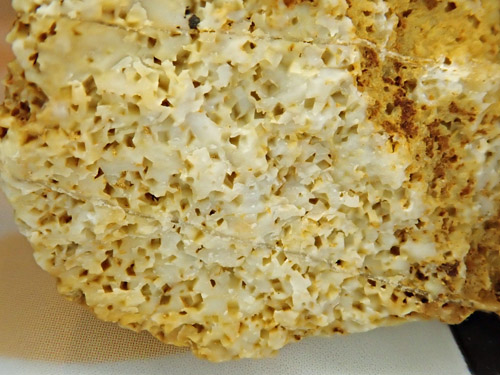 This specimen has rhombohedral voids left by calcite that weathered away
Photos by Lori Carter
You can see the outside of these ooliths
Photos by Lori Carter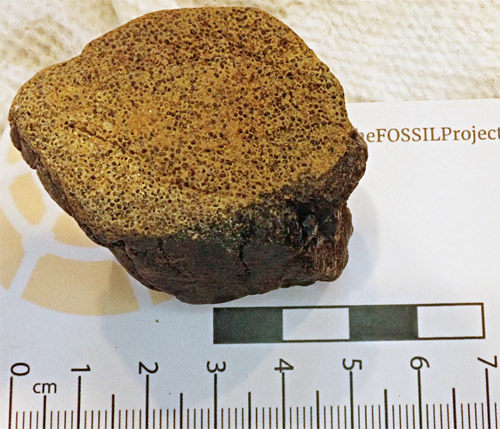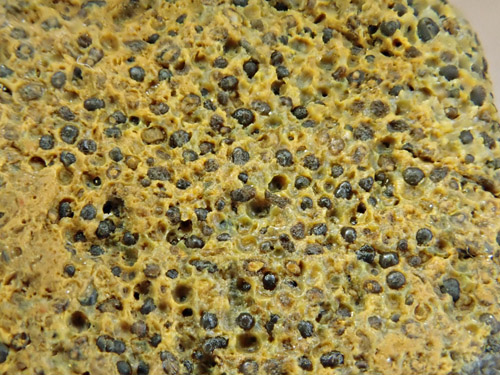 Excellent oolitic specimen with exteriors and interiors visible
(Photographed wet)
Photos by Lori Carter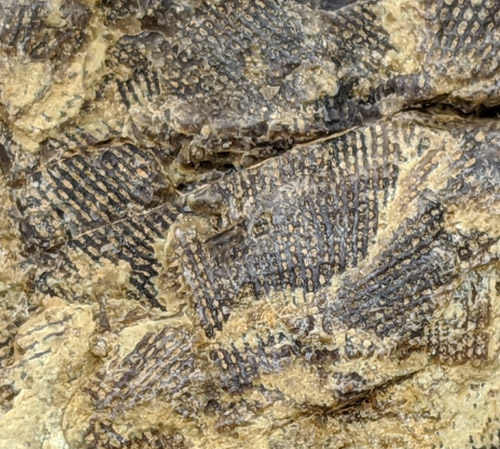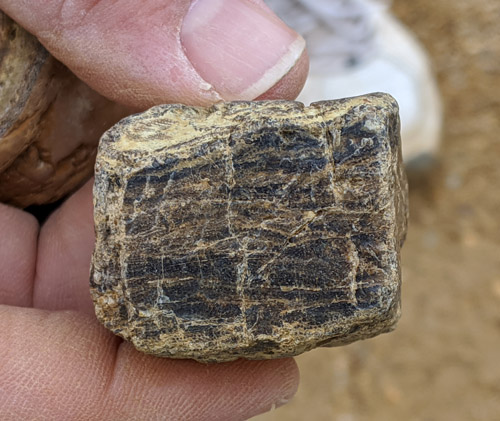 David's bryozoan specimen from top, bottom, and side
Photos by Lori Carter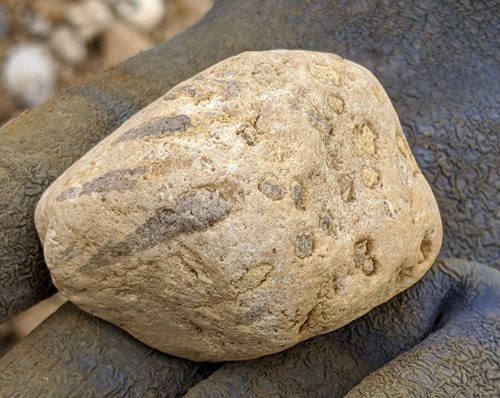 Possible burrow traces
Photos by Lori Carter
Fossils? Fractures? Something else? (Photographed wet. The rock, not me)
Photo by Lori Carter
Charles cutting and polishing gravel on the spot!
Photo by Sherry Kitts
"Charles Carter using his equipment to polish my piece of Jasper"
Photo by Sherry Kitts
"Crinoids possible coral "
Photo by Sherry Kitts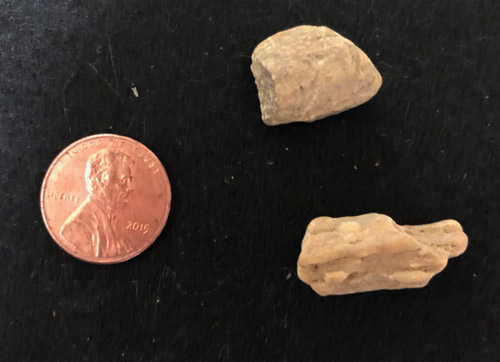 "Probable petrified wood"
Photo by Sherry Kitts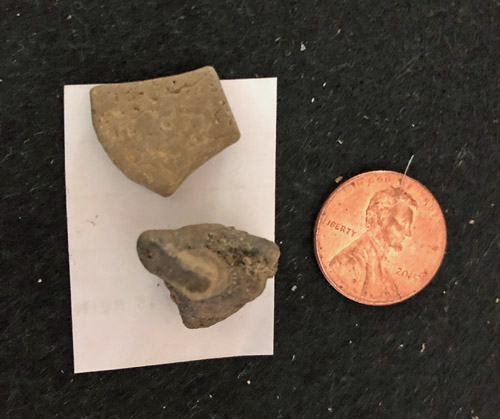 "Probably bryozoa"
Photo by Sherry Kitts
"Possible petrified wood with quartz"
Photo by Sherry Kitts
"Jasper polished on site by Charles Carter"
Click below for field trip policies