Mineral Section
A Special GMS Group
for People Interested in Minerals
Mineral Section Meets
Third Wednesday
Every Month
Minerals are as varied and unique as people. From the mundane to the spectacular, minerals are fascinating in many respects.

GMS members and visitors who are interested in learning more about minerals -- please join us at Mineral Section meetings for special programs and presentations!

Click here for articles about minerals.

If you have any questions about Mineral Section, please send email to

Mineral Section Message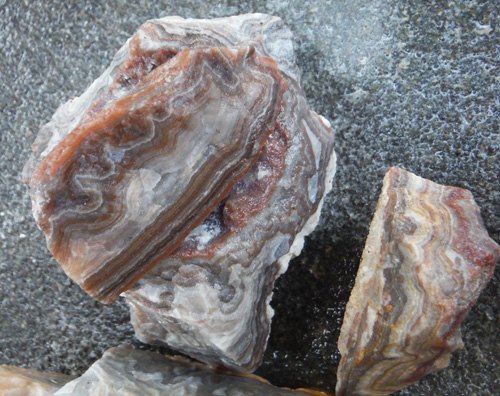 Agate collected on a GMS field trip
Photo Credit: Lori Carter

Date: Wednesday, October 21, 2020
Time: 7:30 pm
Topic: Agates and their Mineralogy
Location: GMS Building

The September 16th Mineral Section meeting was a show-and-tell of spring and summer acquisitions, of minerals, books, and interesting stories. The meeting was held under virus restriction rules.
The October 21st meeting will be held in the GMS building, and we will discuss agates and their mineralogy. Members are encouraged to bring samples and we will use gloves when handling them.
Tom Faller
Mineral Section Chair
NOTE: Temporary procedures are in place for section meetings, including RSVP before attending. Please read those procedures and guidelines here.
Click below for a map and directions