Mineral Section
A Special GMS Group
for People Interested in Minerals
Mineral Section Meets
Third Wednesday
Every Month
Minerals are as varied and unique as people. From the mundane to the spectacular, minerals are fascinating in many respects.

GMS members and visitors who are interested in learning more about minerals -- please join us at Mineral Section meetings for special programs and presentations!



Interesting Articles and Links
Click
here
for a list of zoom links from past Mineral Section meetings.
Click
here
for articles about minerals.
If you have any questions about Mineral Section, please send email to
Mineral Section Message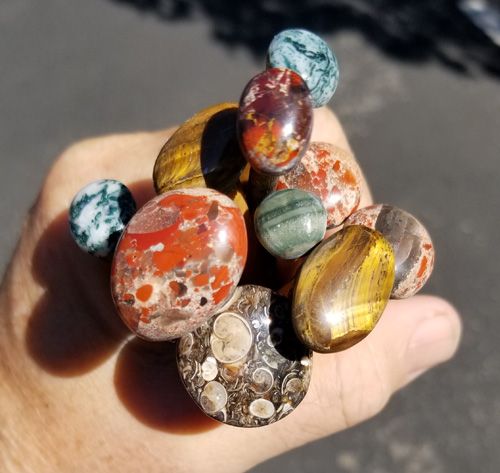 Show & Tell Minerals
Image by Tom Faller
Date: Wednesday, June 21, 2023
Social Time: 7:00 pm
Meeting Time: 7:30 pm
Topic: Show & Tell
Location: In-person and via Zoom Link here and on the GMS Calendar here


The May meeting went over the variety of rocks and minerals being explored in the Copperhill, TN area. Several industrial minerals are found, some as natural minerals, some as processed industrial products and some as unusual replacement minerals, coming from a complex site.
The May 8 meeting with the Alaska Chugach Club took place in the almost-ready-to-be-reloaded clubhouse and it was the first time for many to see the extent of the repairs and renovations and the original size of the clubhouse rooms as they stood empty. It makes me really confident that we will REALLY, REALLY have the June MinSec meeting as a hybrid meeting in the clubhouse and on-line and as a celebration we will try for a live show-and-tell, with everyone bringing rocks they have picked up in the last six months or so since our last clubhouse meeting.
The June meeting will be held on the third Wednesday of the month, 21st and will start at 7:30 pm, with the social and troubleshooting half hour in Zoom starting at 7:00 pm. The meeting link will be sent out early in the month. If the clubhouse is still not available, the meeting will be held by Zoom only.
Tom Faller
Mineral Section Chair
NOTE: Temporary procedures are in place for section meetings, including RSVP before attending. Please read those procedures and guidelines here.
Click below for a map and directions