Mineral Section
A Special GMS Group
for People Interested in Minerals
Mineral Section Meets
Third Wednesday
Every Month
Minerals are as varied and unique as people. From the mundane to the spectacular, minerals are fascinating in many respects.

GMS members and visitors who are interested in learning more about minerals -- please join us at Mineral Section meetings for special programs and presentations!

Click here for articles about minerals.

If you have any questions about Mineral Section, please send email to

Mineral Section Message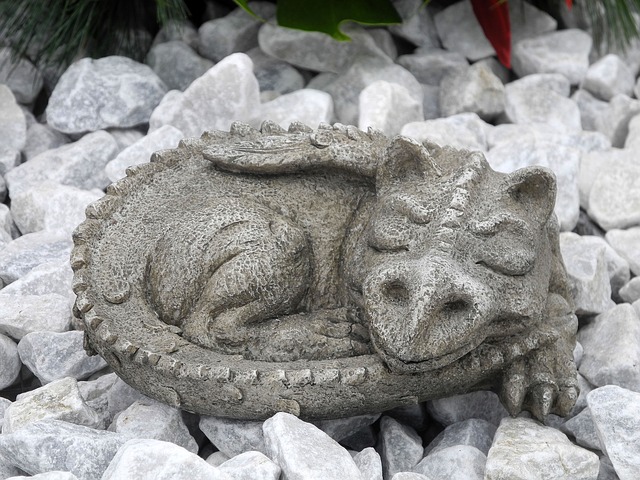 Sleeping stone dragon
Photo Credit: Image by Dagmar Räder from Pixabay
No Meeting in November
The October Mineral Section meeting discussed agates and their chemistry and formation. We passed around (while using gloves) samples collected by members and had samples from Summerville for members to take home, in anticipation of the coming field trip on Nov. 15 to the Summerville quarry.
The November and December Mineral Section meetings are being called off to allow people who are self-quarantining to have more time before any family holiday gatherings. We will resume meetings in January, although the first meeting would coincide with the Presidential Inauguration. Check the newsletter and website to see if the meeting will change from its usual third Wednesday.
I encourage everyone who has time and the means to visit our state and local parks, for exercise and to look at the geology they walk upon. Georgia has several interesting distinct geologic provinces and you can find yourself walking on garnets or over moonstone (feldspar) in several places. As a preview of next year's meetings, I might visit some parks, note the geology, and the minerals and publish a guide ahead of time for others to explore the area before the meeting and come prepared with questions and comments at meeting time. I hope that this can be done in smaller groups, more safely than by field trips, and at anyone's convenience. Getting to know the geology and minerals in our area is fun and a good way to get exercise.
I hope that everyone has safe and happy holidays.
Tom Faller
Mineral Section Chair
NOTE: Temporary procedures are in place for section meetings, including RSVP before attending. Please read those procedures and guidelines here.
Click below for a map and directions