Fossil Section
A Special GMS Group
for People Interested in Fossils
Fossil Section Meets
Second Monday
Every Month
Fossils are a unique way to get a glimpse of the past. Life (and sometimes death) is immortalized in stone.

These enigmatic rocks are formed many different ways and there is so much to learn from them. Please join us at the fossil section to learn more.

Click here for articles about fossils.
Click here for a link to a website devoted to Georgia fossils.

If you have any questions about Fossil Section, please contact Fossil Section chair Kim Cochran.

Fossil Section Message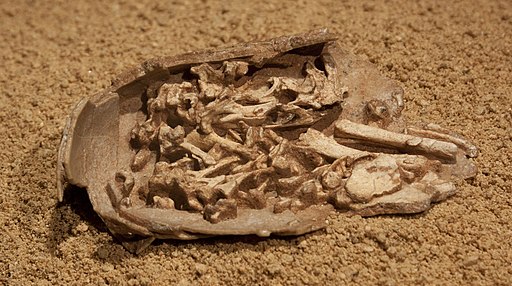 C. osmolskae egg with preserved embryo
Jordi Payà from Barcelona, Catalonia
CC BY-SA 2.0 via Wikimedia Commons
Date: Monday, November 9, 2020
Time: 7:30 pm
Topic: Fossil Eggs
Location: GMS Building


For the November Fossil Section we will discuss fossil eggs. I have been lucky enough to find a few other eggs to go with the dinosaur eggs. We will discuss the how and why of fossilization.
Due to COVID-19, you will have to RSVP - [phone number in the November
Tips and Trips
-- webmaster]
We hope to see you there.
Martha Brown
NOTE: Temporary procedures are in place for section meetings, including RSVP before attending. Please read those procedures and guidelines here.
Click below for a map and directions