Sand Section
A Special GMS Group
for People Interested in Sand
Sand Section Meets
First Wednesday Every Month
If you think sand is just tiny rocks, the insignificant stuff of beaches and dunes, or simply a substance with the ability to invite itself into regions of your clothing where it is most unwelcome, then you need to take a closer look. Consider a sample of green sand. Some grains have bubbles or inclusions. Some are angular and some are rounded. What is it? How did it form? Or how about another sample that looks like tiny stars? What are those little things? How did they end up in some sand? Well, now you know why we have a section for people interested in sand!

So, those of you who thought you were the only person weird enough to think it was a good idea to keep baggies and jars full of sand -- come join us! Even if you still think sand is just tiny rocks, even if you think you already have enough hobbies, or even if you just want to see what all the excitement is about – come join us!


Interesting Articles and Links
Click
here
for a list of links to coloring pages about psammophiles (sand animals).
Our sand friends at WGCMC in New York have graciously shared their 4th quarter of 2021 sand newsletter: (
Click here
)
If you have any questions about Sand Section, please send email to
Sand Section Message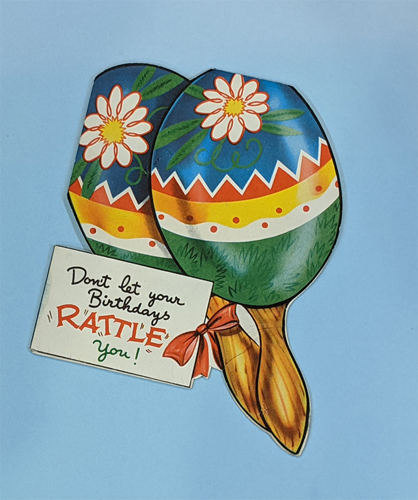 Novelty greeting card with sand inside
Image Credit: Lori Carter

Date: Wednesday, December 1, 2021
Social Time: 7:00 PM
Meeting Time: 7:30 PM
Remotely: Click here for the link
Speaker: Bob Jarrett
Topic: "Sand in Music"


In November, we went back to the origins of sand and discussed the various ways it can form. We were amazed at the many different ways sand can form and we enjoyed a lot of stunning pictures!
In December, Bob Jarrett will be telling as all about sand in music. Please plan to attend because this is sure to be an educational and entertaining night of sand!
Lori Carter
Sand Section Chair
---
NOTE: Temporary procedures are in place for in-person section meetings, including RSVP before attending. Please read those procedures and guidelines here.
Click here for the GMS Sand Collection List
2022 Sand Calendar
The 2022 sand calendar is here! As always, the pictures are stunning and the write-ups are well-researched and educational! You can purchase the calendar on ebay
here
New Sand Book
ISCS member and Sand Section supporter Kate Clover recently released a new sand book with co-authors Dr. Gary Greenberg and Dr. Carol Kiely.
"The Secrets of Sand" explores the various places and ways sand is formed. Beautiful images of sand as well as thorough and engaging text make this a must have book for your sand library.
Now available on Amazon, Barnes & Noble, and other bookstores
Heavy Sand Article
The Fall 2015
Rock & Gem
special gold issue is now available and this time it contains an article about heavy sand processing written by sand Section chair Lori Carter!
To purchase a copy of the magazine, please see the special issue website at:
http://www.beckettmedia.com/special-issues/rock-n-gem-sip
Click below for a map and directions