Gem Section
A Special GMS Group
for People Interested in Gems
Gem Section Meets
Last Monday Every Month
Ah, the jewels of the rockhounding world. Gems come in many different forms, but one thing is usually certain -- someone took something normal and transformed it into something spectacular!

Join us at Gem Section to see rocks when they are all dressed up and even dress up a few yourself!

Interesting Articles and Links
Click
here
for a list of links about amber compiled by Sue Gorday.
If you have any questions about Gem Section, please send email to
Gem Section Message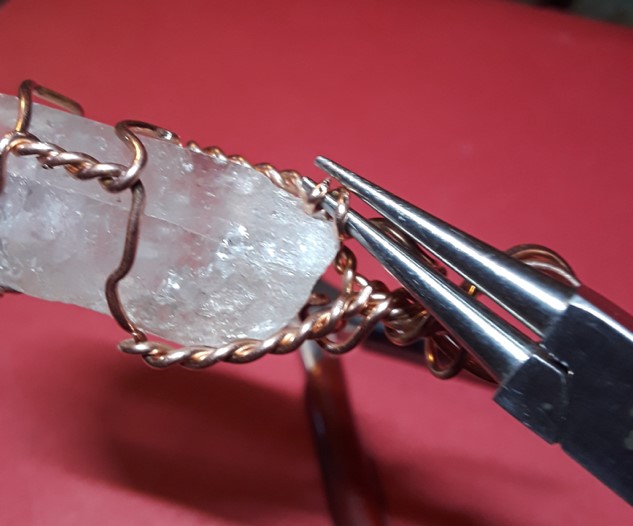 Wire-wrapping, hand, and photos by Diana Poppelreuter
Date: Monday, September 27, 2021
Social Time: 7:00 pm
Meeting Time: 7:30 pm
Topic: Beginning Wire Wrapping
Location: Hybrid Meeting (click here)


I hope everyone enjoyed the Show and Tell for the August Meeting. I'm sure there are bugs to work out, but I think that this is the way future meetings will happen.
As I mentioned last month, this month's topic will be beginning wire wrapping. Diana will be leading us in a starter wire wrap project. We probably will learn to wire wrap a quartz crystal. If you are coming in person, please let us know by sending an email to so we can be sure to have the supplies available. We have some tools available, but bring you own if you have them, as well as a stone, if you have one you want to work with.
We had a request for information on tumbling come thru our website. Diana and I do not know all that much about tumbling, so I thought for the October meeting we would have a panel discussion and talk about tumbling stones. If you know anything about tumbling, be part of the panel and share your knowledge, either in person at the club house or via Zoom virtually.
For those who show up in person at the clubhouse, we will fold, stamp and address the paper copies of the newsletter before the meeting. I hope to see everyone online thru the virtual meeting or in person at the clubhouse and in the meantime, stay safe!
Jay Gorday and Diana Poppelreuter
Gem Section Co-Chairs
NOTE: Temporary procedures are in place for section meetings, including RSVP before attending. Please read those procedures and guidelines here.
Click below for a map and directions