GMS Field Trip
If you have any questions about field trips send email to
GMS Field Trip
Museum Tour, Plant Tour,
plus Granite & Other Rock Collecting
in Georgia
Friday, March 1, 2019
GMS members have visited this location a few times over the years, and normally we visit a working quarry, but for this trip the weather closed down all of the quarries, so field trip chair Charles Carter had to make last minute adjustments to the trip. We started with a museum tour where we watched an updated video about granite mining and received souvenir samples of granite. Then, Charles arranged a special tour of a granite processing facility. The tour was fantastic! We saw giant saws, polishers, and several pieces of equipment we've never seen before. The tour guide even had a curious slab lifted up where we could see it – 900 pounds of mystery stone hauled up just for us! After some discussion, we decided the mystery stone in the slab may be columnar basalt. Outside the plant, we were allowed to collect scrap pieces of stone. There were so many beautiful pieces it was hard to decide what to take. I even saw some pieces with fossils in them! Once again, many thanks to Charles for setting up another great field trip!

Lori Carter
On behalf of Charles Carter, GMS Field Trip Chair
e-mail:

Photo by Lori Carter
Always something to learn
Photo by Lori Carter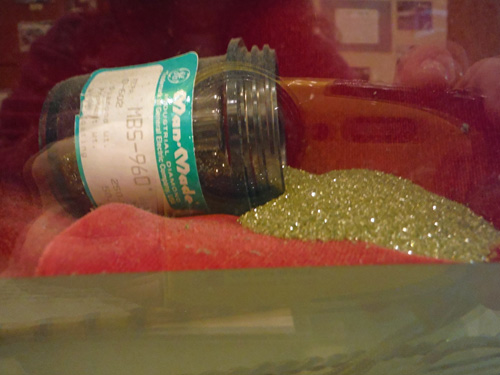 Diamond grit -- sand sized!
Photos by Lori Carter
One of the biggest saws we saw
Note the man in the center picture, lower right for scale
Photos by Lori Carter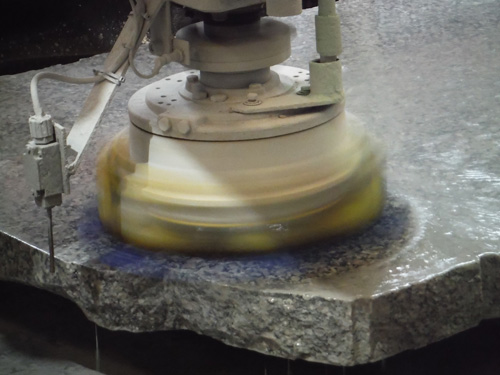 Everyone wanted to take home this giant slab polisher
Photos by Lori Carter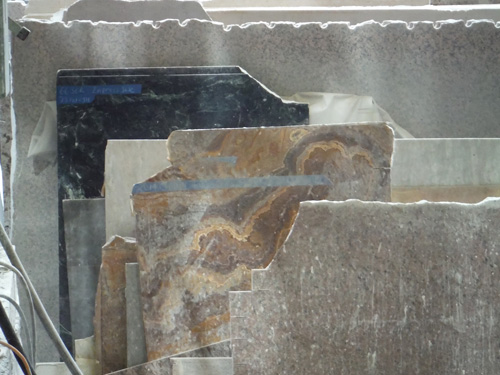 Thick slabs and thin slabs, all really big
Note the quarry drill marks at the top of the slab above
Photo by Lori Carter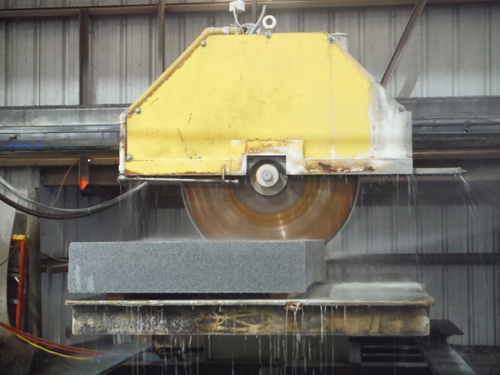 Another giant saw
Photo by Lori Carter
Our tour guide had this slab lifted for us so we could see the "turtle shell" pattern.
We think it is columnar basalt.
Photo by Lori Carter
Ready to start scavenging!
Photos by Lori Carter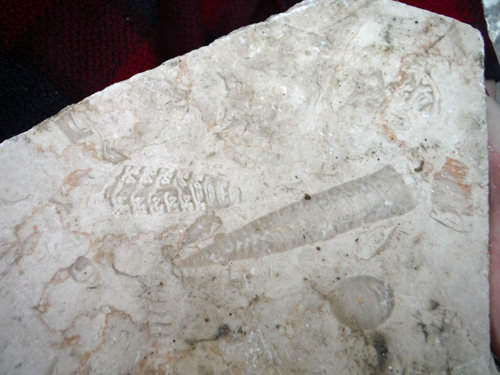 Fossils!!!
Photo by Lori Carter
Destined for a new life in a footpath or maybe as a small table
Photos by Lori Carter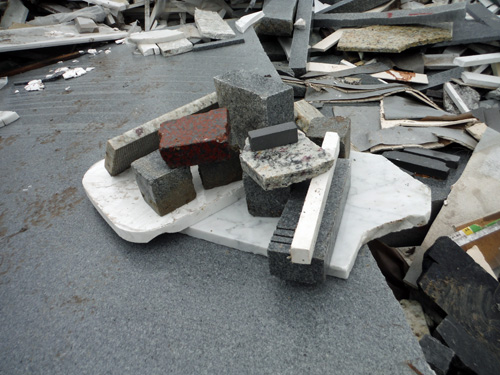 Ready to go
Photo by Lori Carter
One last look
Photo by Lori Carter
Plant employees gave us a sample of the garnet grit they use for cutting slabs!
Notice how it is not entirely garnet (pink).
Without knowing the origins of the sand, we can't be sure, but we can guess:
quartz (clear), epidote (green/yellow), and ilmenite (black).
Click below for field trip policies