&nbsp&nbsp&nbsp&nbspThe Georgia Mineral Society, Inc.
4138 Steve Reynolds Boulevard
Norcross, GA 30093-3059
Annual Holiday Party Meeting
December 2019
GMS members once again gathered to celebrate a year of geologic fun. President David Bruce presided over a brief meeting, then the party begain! Everyone enjoyed a delectable spread of holiday delights. Members brought gifts to exchange, so after our bellies were full, VP of Programs Juergen Poppelreuter drew numbers for the gift exchange. Members had fun opening their own gift, then mingling around to see what everyone else received.
Special events chair Terrilyn Price did a wonderful job planning and preparing this event with help from Diana Poppelreuter and all the members who brought in a vast array of delicious dishes. It was a lovely evening of camaraderie and celebration!
Lori Carter, Webmaster
Photos by Lori Carter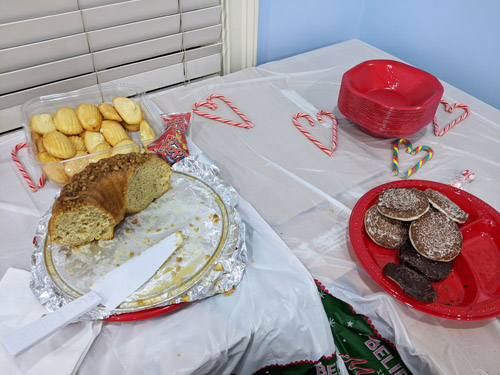 The food! (Of course I forgot to get pictures until after the food was devoured...)
Photos by Lori Carter
The gifts! Juergen Poppelreuter called out gift exchange numbers.
Photos by Lori Carter
And the most important part -- the people :o)