10th Annual Auction Meeting
January 2021
On January 4th we had our 10th annual January auction. Due to the ongoing pandemic it became
our first virtual auction
. After extensive prep work, like an online catalog with first class pictures (thank you Tom Faller), the auction started promptly at 7:45. For the next two hours, spirited bidding ensued on 53 items, from petrified wood to soap stone carvings. The total raised for the club was a good 30% more than the last two January auctions. The biggest piece, 135 lbs of Arizona petrified wood, found a new home for $333. Thanks to Cristina Clines we were able to use the professional version of Zoom, negating the switch to new sessions every forty minutes. I take this opportunity to thank all participants, but especially Kim Cochran, Tom Faller, Lori Carter and Diana Poppelreuter for all the hours spent in making this a very successful auction. We shall do this again.
Juergen Poppelreuter, VP of Programs
Photos by Diana Poppelreuter
Prep Time
Kim getting auction items out
Tom prepping items to photograph them
Tom and Juergen arranging the items by lot number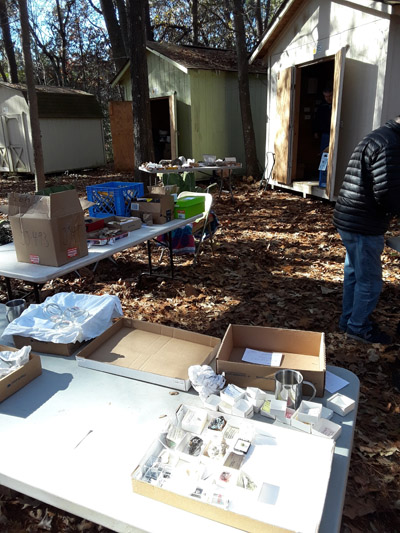 Lots of lots...
Click Below for the Auction Spreadsheet