Malachite
by
Dave Babulski, Ed.D.

("Tips and Trips", Volume XXXV/Five May 2006, page 13-14.)
Greetings everyone. This month I would like to share with you one of the more common copper bearing minerals - Malachite. Although most commonly occurring in massive or botryoidal form, Malachite does more rarely occur in some interesting micro-crystal forms usually as acicular crusts and tufts. Microcrystals of Malachite are Monoclinic in form and exhibit 2/m crystal symmetry. Micro crystals of Malachite are acicular and often occur in clusters creating the appearance of fibrous Masses To the micromount collector Malachite offers some interesting challenges to find good micro crystals. In the last few years more good microcrystalline specimens of Malachite have come on the market. Chemically Malachite is a copper carbonate hydroxide and is one of the most commonly occurring secondary copper minerals. The name Malachite derives from the Greek word "Mallow" alluding to the green color that is similar to a green leafy herb. Although Malachite is generally known as a green mineral, when in micro crystal form the color varies from a dark green (sometimes so dark it appears almost black) to a delicate light green to light blue-green. Shown below in Figure 1 is a photomicrograph of Malachite as fibrous masses of slender acicular crystals from the Maid of Sunshine Mine, Gleeson District, Dragoon Mountains, Cochise County, Arizona. Note the interestingtransition in crystal color from green to a light blue-green.
Figure 2 - Malachite, Maid of Sunshine Mine, Arizona (25X magnification) Sometimes you can find several crystal forms in one specimen. Figure 2 shown below shows a "jackstraw" arrangement of acicular Malachite crystals. In most cases, the individual acicular crystals are actually several smaller crystals arranged in parallel fashion as an acicular crystalline tuft. This specimen is from the Maid of Sunshine Mine, Gleeson District, Dragoon Mountains, CochiseCounty, Arizona.
Figure 3 – Malachite - Maid of Sunshine Mine, Arizona (25 X magnification) In some specimens of Malachite several different crystal morphologies can be seen in close proximity to each other. In the specimen shown in Figure 3 we see a "Jackstraw" arrangement of acicular Malachite microcrystals placed just above a collection of blocky looking crystals made up of many slender acicular Malachite crystals all parallel to each other. The color ranges from dark green (almost black) to a light bluish green. This specimen is also from the Maid of Sunshine Mine, Gleeson District, Dragoon Mountains, Cochise County, Arizona. (25X magnification) unaware of the hidden wonder that can be found even in the most common of minerals with just a hot mug of tea, some patience, a little careful investigation and a good stereo microscope. A whole world of wonder lies waiting to be discovered. I encourage those of you who have not tried mineral micromounting to give it a try, you will be amazed at what you may discover.
Figure 1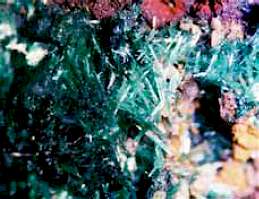 Figure 2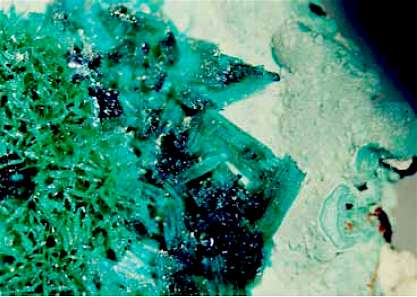 Figure 3