COPPER SPECIMEN CLEANING INSTRUCTIONS
by
Anonymous
As published on the orginal website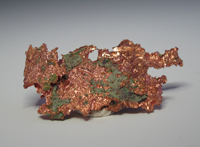 ---
IMPORTANT NOTICE: SEE PRECAUTIONS AT BOTTOM OF INSTRUCTIONS PRIOR TO STARTING.
---
Remove unwanted rock by picking, hammering at specimens to be cleaned. Wire brush rock to remove loose, soft material.


Soak in

muriatic acid

(hydrochloric) approximately 1 hour. Sometimes toilet bowl cleaners contain this acid. This soaking removes all the green/brown oxidation from copper, plus any calcite is dissolved.


Rinse well and brush the copper and rock again to remove any further loose rock.


Dip in diluted

nitric acid

(30 seconds to 1 minute MAXIMUM). This is a very strong acid, so be prepared. Wear goggles, rubber gloves, and use only in a well ventilated area--

OUTDOORS ONLY!!!

Keep running water nearby to rinse spills, splashes on the ground or on clothing. Rinse the copper many times till no acid remains on or in the copper specimen. (15 - 30 minutes)



UNDER NO CIRCUMSTANCES SHOULD ACID BE ALLOWED TO REACT WHERE IT FOAMS AND BUBBLES, CAUSING VERY POISONOUS REDDISH FUMES.
DILUTE AND RINSE AT ONCE.

Dip copper into solution of copper brite. Any liquid brass/copper cleaner may work.



RINSE, RINSE, RINSE ( 1 - 2 hours if needed)
Rinse till no yellowish coloration remains in the rinse water.
Towel dry, dry with a hair dryer, or dry with a fan.




Spray with clear acrylic lacquer one day after the copper has been cleaned and dried. If the copper tarnishes, redo the process. Weak acids and/or not enough rinsing are the primary problems causing tarnishing.


---
PRECAUTIONS:
Always wear goggles, rubber gloves, and an apron.
Keep running water close by to dilute and rinse spills.
Use plastic pails/containers for holding the acids. Cover well when not in use. Make sure all acids/solutions are labeled correctly.
All acid work must be done outdoors away from cars, houses, animals, plants, etc...
Clean water is the best rinse. We do not recommend ammonia, caustic soda, or any other neutralizer.