GMS Field Trip July 2023
If you have any questions about field trips send email to
GMS Field Trip
Behind-the-scenes Museum Tour
in Georgia
Friday, July 14, 2023

Instead of battling 90+ degree heat, GMS members enjoyed a comfortable, fascinating field trip to Tellus Science Museum in Cartersville, Georgia. Ryan Roney, Tellus Curator, graciously agreed to give us a behind-the-scenes tour, and even arranged two tours to accommodate all of the members who signed up for the trip, including most of the people on the waiting list.

Tellus has evolved from the humble Weinman Mineral Museum into a world class facility that houses a plethora of things to do and places to see. Amongst the things visitor experience are a planetarium, fossil gallery, mineral gallery, transportation gallery, and an auditorium where they get to see, hear, and meet speakers from all over the world. There are places specifically for children including a fun place called "My Big Backyard" as well as hands-on fossil and gem hunting rooms. Plus, there are several well-stocked classrooms, a library, a café, and a gift shop! And there's even more outside! But we got to see what most people don't get to see.

We started in the library where we learned that Tellus has a large collection of maps, books, and periodicals that are available for research and study. Simply schedule a time and peruse to your heart's content. Next, we visited a staging area for incoming and outgoing exhibits. Just standing near the enormous crates really opened our eyes to the amount of work necessary for temporary exhibits. Items used for educational events are stored there too, and the tall shelves filled with these items illustrate the educational efforts of the museum.

Then, we entered the inner sanctum -- the archives. It is the repository for items that are not currently displayed. In addition, it contains study specimens that are available for research. The space is also used to clean and catalog recently acquired items, and to prepare items for upcoming exhibits. Ryan explained that the archives are for more than just spectacular exhibits. Whether items are on display or not, the collection documents the geology and paleontology of the southeast. And, it is meant to do so for future generations long beyond ours.

Our last stop was the Weinman Mineral Gallery, where Ryan showed us a display of recent acquisitions. We saw some stunning specimens and enjoyed hearing the stories behind them. After Ryan showed us a few more displays, he chatted with members for a while, then led the rest of the group on a second tour.

Ryan reminded us to note several GMS members' names on specimens in the gallery. He told us that many items at the museum are there thanks to club members and encouraged all of us to think about the museum as we are collecting. Specimens that aren't displayed are still invaluable for documenting minerals and fossils in the southeast, and may be important as study specimens. We ran into GMS members who volunteer at Tellus who serve as an inspiration for other members to volunteer too.

As they finished their tour, the second group joined the first group, and we all headed to the café for lunch. Ryan continued chatting with us as we ended a fantastic field trip just hanging out with each other over a tasty mid-day meal. Juniors on the trip made quick friends with each other and one even declared that he is the person who love rocks the most.

Ryan was a great guide! He showed us so many things that we normally would not see, and he answered all of our questions. His background stories made everything so much more special to us. The entire experience gave us a deeper appreciation for Tellus. It really impressed on us how fortunate we are to have such an incredible asset to the study of earth science and paleontology so close and so open to us. We cannot thank him enough for this brief glimpse into the inner workings of this magnificent museum. Thank you to Ryan and all of the Tellus staff who made this trip possible. And thank you to the members who spent their day with us on this terrific trip!

Lori Carter
On behalf of Charles Carter, Field Trip Chair
e-mail:


Photo by Charles Carter
I didn't even think to take a group picture, but Charles did for the second group.
Of course, my group was much bigger, so I have a good excuse. Yes? Good? Excuse? Maybe not...
Photo by Lori Carter
Ryan telling us about the resources available at the Tellus library
Photo by Lori Carter
Staging area for incoming and outgoing temporary exhibits, plus storage for educational event supplies
Photo by Lori Carter
The archives room
Photo by Lori Carter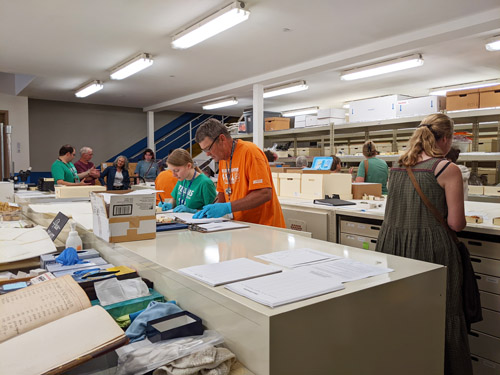 We explored the archive area without touching anything as Tellus staff and volunteers worked
Photo by Lori Carter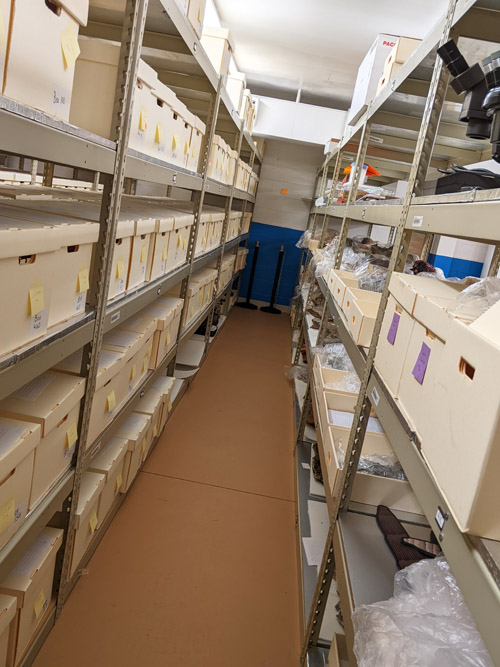 Archive shelves full of carefully cataloged items
Photo by Lori Carter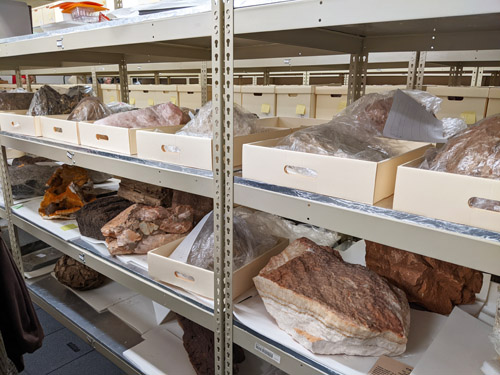 Some large specimens in the archives
Photo by Amy Judd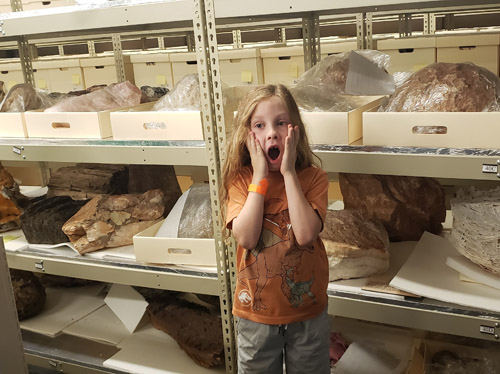 So many amazing things to see!
Photo by Amy Judd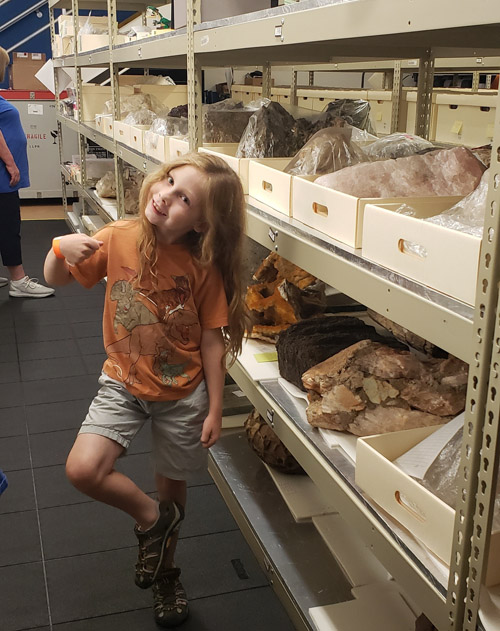 Exploring the Tellus archive room is fun!
Photos by Amy Judd
Juniors got to see some special fossils and even got to help hold one!
Photo by Lori Carter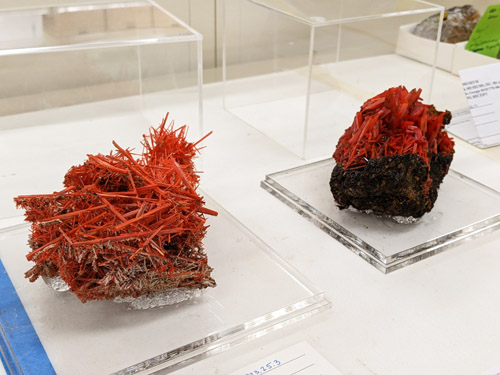 Some crocoite specimens still being processed
Photo by Lori Carter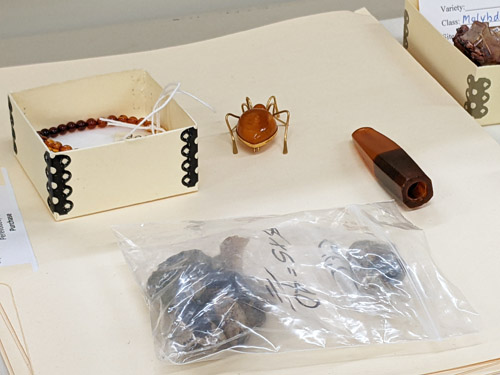 Amber being prepared for an upcoming exhibit
Photo by Lori Carter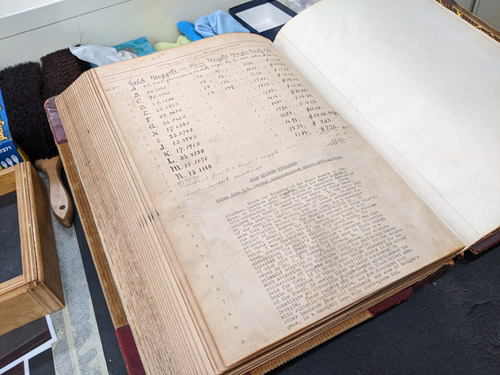 Ledger from the Georgia State collection
Photo by Lori Carter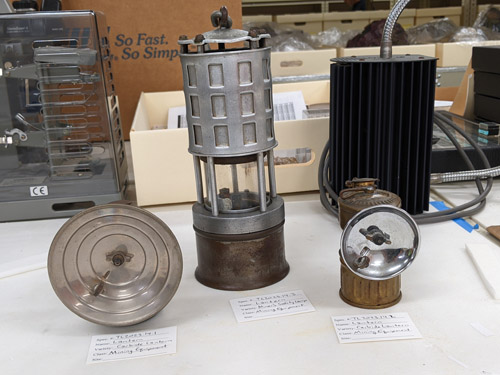 Antique mining lamps
The one in the middle is a safety lamp.
The color of the flame would change in the presence of methane or carbon dioxide.
Photo by Lori Carter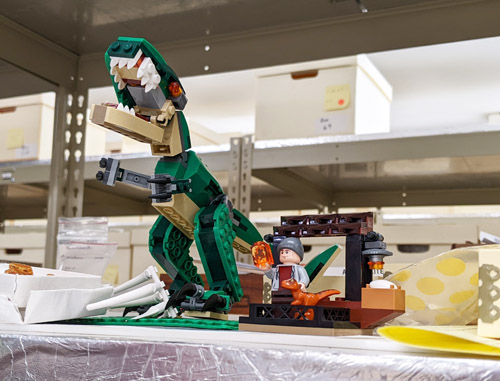 Juniors found a dinosaur in the archives!
Photo by Lori Carter
Back in the mineral gallery, we saw some recent acquisitions including this rare, gold crystal specimen
Photo by Lori Carter
Trapiche amethyst -- you don't see one of these every day
Photo by Amy Judd
Remarkable rhodochrosite!
Photo by Amy Judd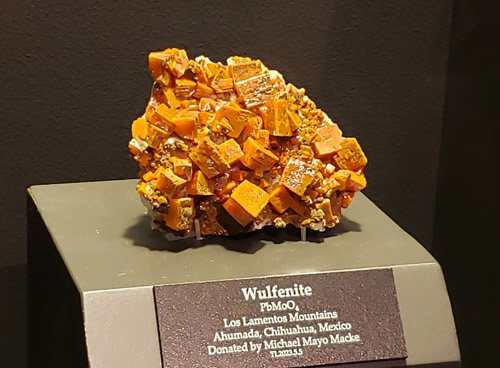 What a wulfenite!
Photo by Amy Judd
The trip ended with camaraderie and comestibles
Click below for field trip policies