GMS Field Trip July 2022
If you have any questions about field trips send email to
GMS Field Trip
Gold and Tours in Georgia
Sunday, July 17, 2022
Seven juniors earned their first FRA badge just by attending this field trip! As you read this report, you will see how they had fun on the trip while completing activities that qualified them for the badge. (The adults had fun too!!!)

The first stop was a visit to a unique piece of gold mining history in Georgia. Juniors and adult members learned how a special diving bell was built so miners could access gold from a river bottom. Even the history of the recovery of the diving bell was fascinating.

Next, we visited a gold museum. We saw various forms of gold found in Georgia, gold mining equipment, a film about the history of gold mining in Georgia, and we even got to see a secret place in the museum with some surprising hidden gold.

Then, we visited a real gold mine! A tour guide led the group underground where we learned how gold miners endured dangerous conditions in the confines of the mine. Their marks are still visible by veins of gold in the walls of the mine. After the tour, we got to practice gold panning for real gold.

Our last stop was a private gold mine out in the wild! First, we had some quick snacks to refuel, then we were off to see and turn an old water wheel. Everyone jumped into the creek and spent the rest of the afternoon panning for gold.

There were a lot of moving parts to this trip, so it took a lot of help to make it successful. The museum people were welcoming, fun, and generous with their knowledge. The tour guide and other staff at the gold mine were also very kind, knowledgeable, and attentive. Many thanks to GMS member Mike Pettis who arranged with the other property owners to get access to the wild gold mine. We cannot thank the property owners enough for allowing us such a wonderful opportunity. Also, many thanks to GMS members were on hand to help with the trip: Cameron Clines, Bob Dolezal, Tim Hellinger & Lynn LeMaster, Jared Dunn, and Junior Section Chair, Jessica Terrien Dunn. And, of course, thank you to Field Trip Chair Charles Carter for arranging this trip.

Lori Carter
On behalf of Charles Carter, Field Trip Chair
e-mail:


AFMS FRA Gold Panning & Prospecting Badge
How did juniors earn their badge?
Activity 12.4: Gold resources in your own state or region – They learned about getting gold from the bottom of a river at the diving bell, and they learned about the geology and history of gold in Georgia at the gold museum.

Activity 12.5: Field trip to a gold mine -and- Activity 12.6: Panning for gold – They visited an underground gold mine as well as a wild mine and panned for gold at both places. Click here for the FRA manual that describes all of the activities suggested for this badge.
Photo by Lori Carter
Learning about the diving bell and its history
Photo by Bob Dolezal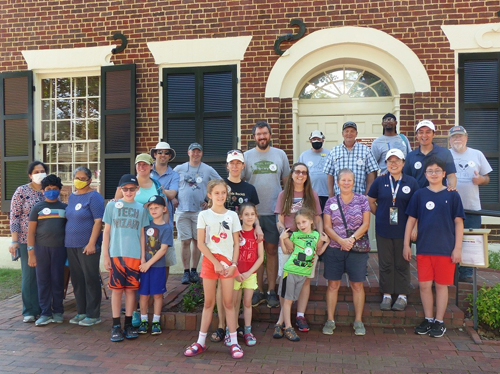 Quick group photo in front of the museum
Photo by Lori Carter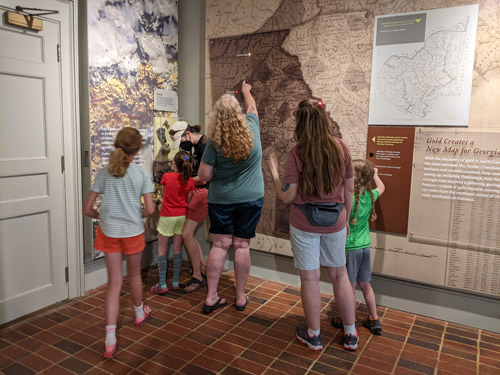 Checking out a map of Georgia that shows where gold has been found
Photo by Lori Carter
Members learned about the different forms of gold that have been found in Georgia
Photo by Lori Carter
The ranger showed us a film about the history of gold mining in Georgia
Photo by Lori Carter
The ranger also showed us various minerals that look like gold but they are not.
She let us touch the minerals and hold them to feel the difference too.
Photo by Bob Dolezal
Underground in the gold mine
Photo by Bob Dolezal
This little mining cart had the juniors imagining they were in an Indiana Jones adventure
Photos by Lori Carter
Our mine tour guide was very entertaining and taught us all about the miners and mining equipment they used
Photos by Lori Carter
The passages in the mine were fun to explore
Photo by Lori Carter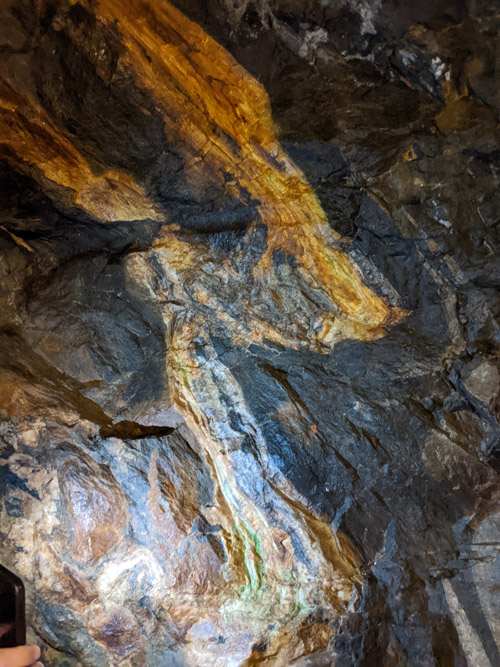 We could see distinct bending and folding of the quartz veins
Photos by Lori Carter
Stalactites in the mine probably formed after the passages were dug out
Photo by Lori Carter
These stalagmites look a little too big to have formed since the mine was dug,
but they had over 100 years to form if they did.
Learning how to pan for gold
Photo by Lori Carter
Members watched a short video to learn gold panning techniques
Photos by Lori Carter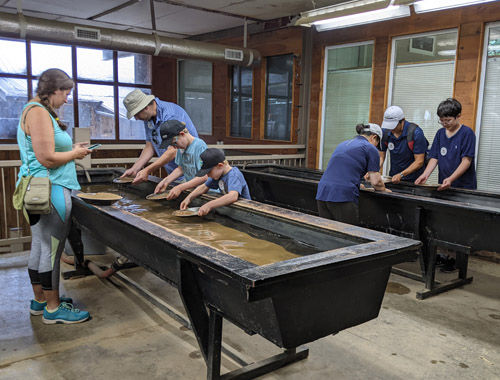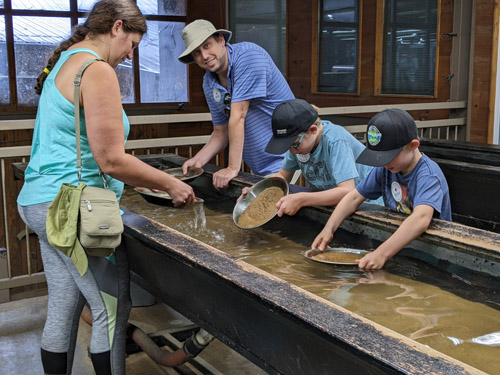 Then they practiced panning!
Photos by Lori Carter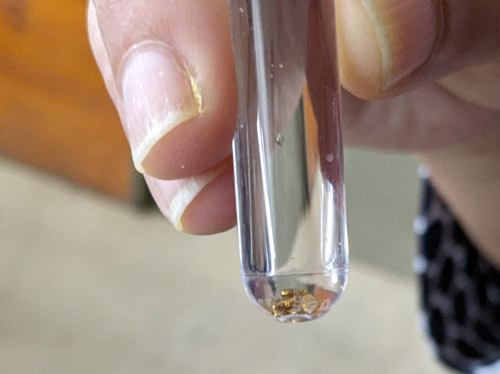 Some of the gold they found
Panning for gold in a creek
Photo by Bob Dolezal
Members used their new panning skills to search for gold in a creek
Photos by Lori Carter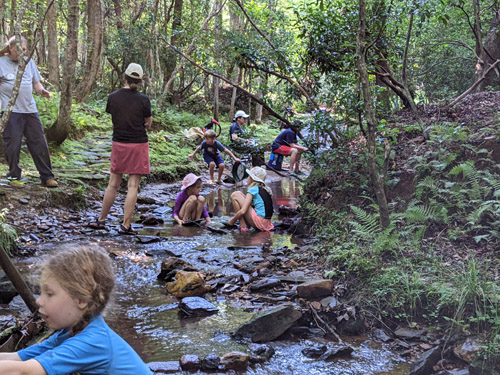 Juniors worked and played hard in the creek
Photos by Lori Carter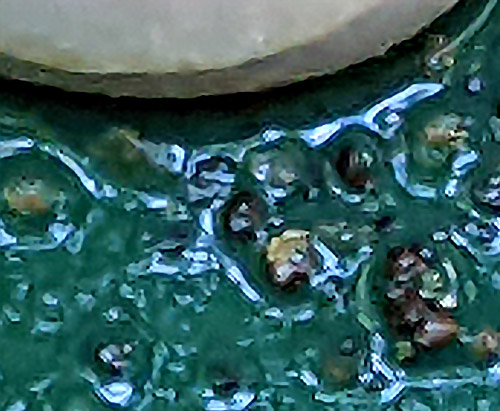 Cam found some gold in the creek!
Can you see it?
Photos by Lori Carter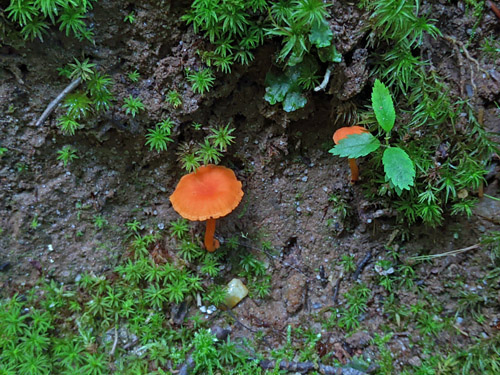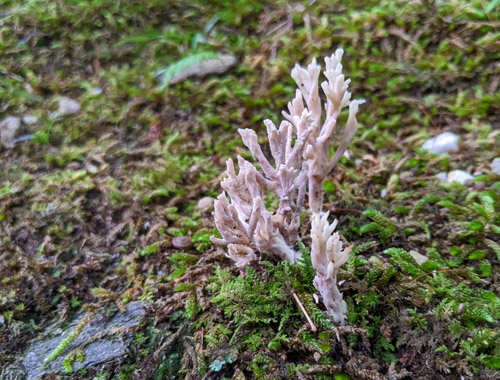 Some cute little woodland fungus among us
Click below for field trip policies