GMS Field Trip
If you have any questions about field trips send email to
GMS Field Trip
Mississippian Fossils and Geodes
in Tennessee
Saturday, November 16, 2019
Field trip attendees were treated to almost record low water levels this year. Compared to prior years, several more feet of shoreline were above water, exposing a lot more area to search. So, we extended the amount of time we would normally spend at the first location. Amongst the Mississippian age marine fossils that can be found there are brachiopods, bryozoans, and horn corals, but by far the most abundant fossils are crinoids. Many people think crinoids are extinct, but there are crinoids still living in oceans today. Even though they are animals, crinoids look a lot like plants, so they are often called sea lilies. Some crinoids float freely while others anchor to rocks or other objects. Basic stalked crinoid anatomy consists of a root-like structure called a "holdfast" to anchor the animal; long, graceful stalks or stems; a cup-like structure called a "calyx" that contains a mouth and other digestive parts; arms extending from the calyx; smaller branches called "pinnules" on the arms; and the pinnules have tiny, feathery bits called "cirri" that filter plankton from the water. There are several species represented at this location, but based on calyxes I have seen in the past, I think the three most abundant species are probably Agaricocrinus, Eretmocrinus, and Alloprosallocrinus. On this trip I think there were mostly Agaricocrinus calyxes and one squished Eretmocrinus calyx.

Because the ratio of stems to calyxes is heavily on the side of stems, calyxes are rare and subsequently highly prized. Within a few minutes of hitting the beach, someone found one! Then another, and another. I saw at least four calyxes! The stems there are highly silicified with excellent preservation of details. Some are single segments and some are columns of segments that, on close inspection, look like stacks of poker chips. They are also very pretty because many are blue. One junior found a large oval stem section, larger than any oval stems I have ever seen there. Clusters of stems were more abundant with the water down, so I saw several very nice plates and clusters. There was also a brachiopod with an interesting overgrowth in a distinct crisscrossing pattern. I found some crinoid stems with something similar to that overgrowth, but it is best described as fossilized goo oozing down the sides. I don't know if the goo is from the crinoid itself, or if it is another organism, perhaps a predator or a scavenger. I would like to learn more about this goo so I can explain it to other people when they find some. Although I didn't find a calyx this time, I was thrilled to find a crinoid holdfast! Before the trip, I looked at pictures of crinoid fossils on the internet, so maybe when I saw a holdfast there, it imprinted on my brain. I am including pictures of the holdfast with this report so maybe it will imprint on your brain too. Crinoid fossils were so abundant, in addition to the fossils that will find new homes on our specimen shelves, we also collected lots of stems for grab bags and STEM events (no pun intended, but it is so punny).

After a refreshing lunch break, we caravanned to a second location to collect geodes. One junior became quite adept at spotting good geodes. I was very impressed with how quickly he learned to break them open. His very first try resulted in a perfectly cracked, beautiful geode. His sister also learned very quickly that the shore is covered with small, already open geodes. She had no trouble filling her bag with those beauties. I found a piece of a geode with cubic quartz coated with chalcedony. Since they were so abundant, we quickly loaded up on small opened and un-opened geodes for grab bags, then called it a day. The weather was gorgeous and the collecting was fantastic. Many thanks to Charles for arranging this two-location trip, and many thanks to all of the people who came and made it an incredibly enjoyable day!

Lori Carter
On behalf of Charles Carter, GMS Field Trip Chair
e-mail:

First Location: Mississippian Fossils
Image by William I. Ausich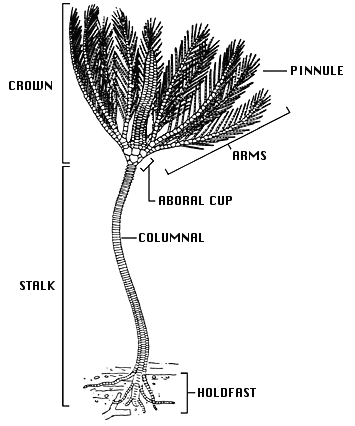 Stalked crinoid anatomy
Image Credit: William I. Ausich [CC BY 3.0 (https://creativecommons.org/licenses/by/3.0)]
Photo by Lori Carter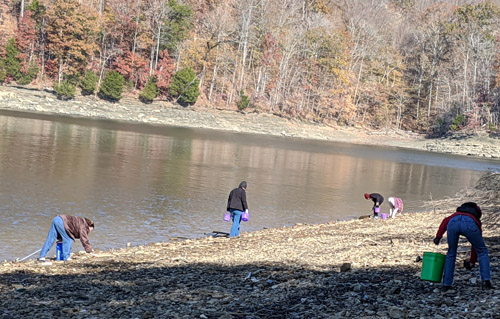 Plenty of area to search on this trip!
Photo by Lori Carter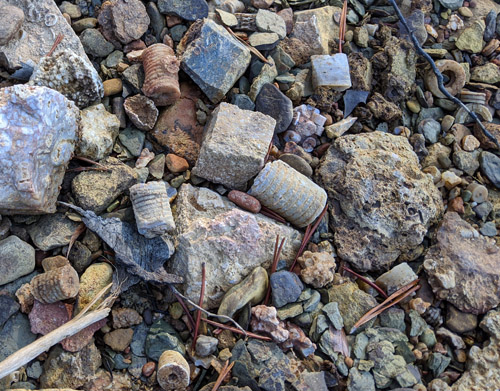 Crinoid stems were abundant
Photo by Lori Carter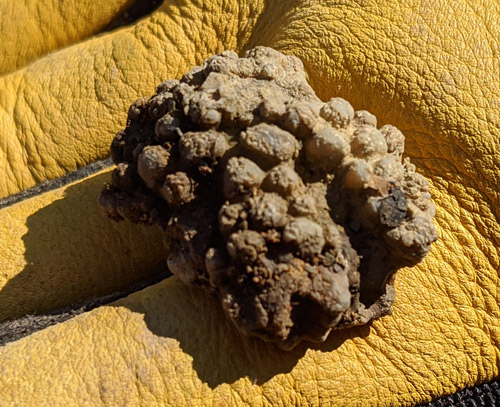 This crinoid calyx is a little too distorted to guess species
Photos by Lori Carter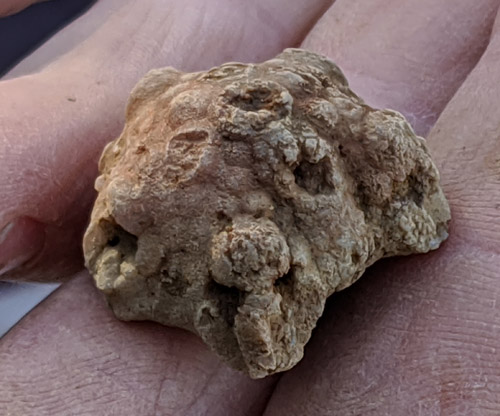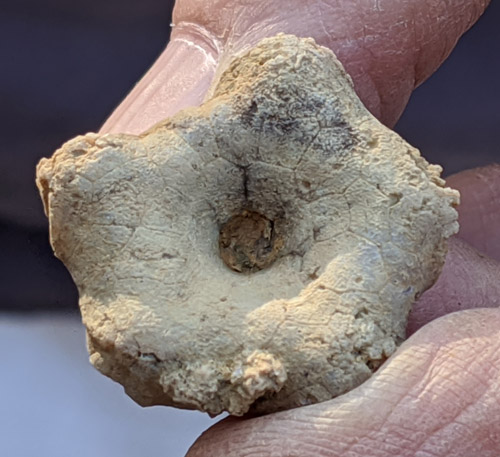 Agaricocrinus
calyx?
Photos by Lori Carter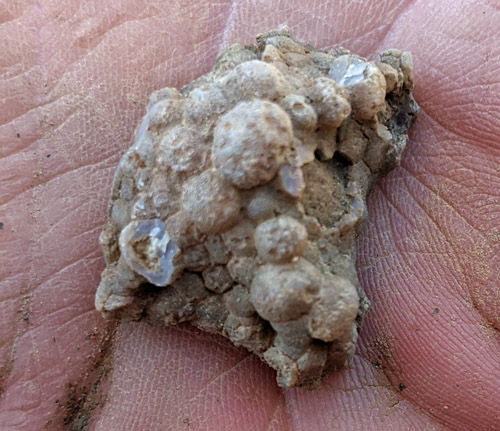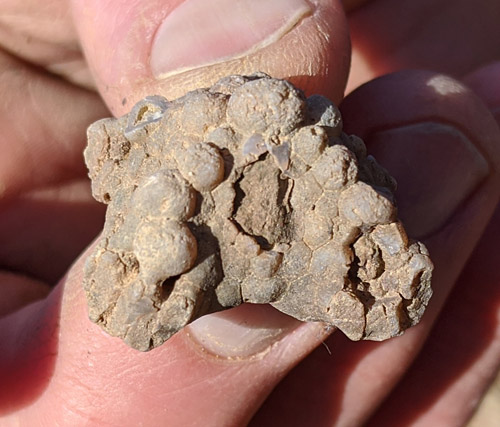 Another
Agaricocrinus
calyx?
Photos by Lori Carter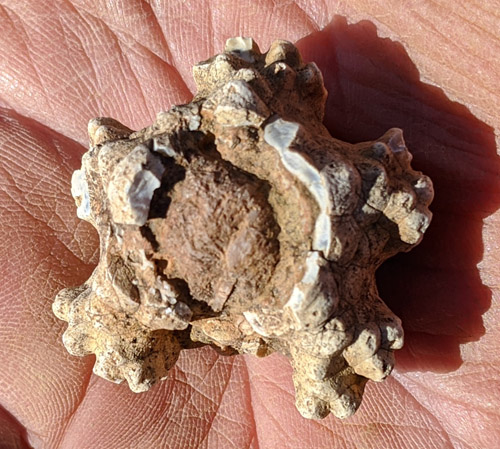 David was thrilled to find this calyx!
Unsure of the species, but possibly
Agaricocrinus
with more of the arm attachment areas preserved.
Photos by Lori Carter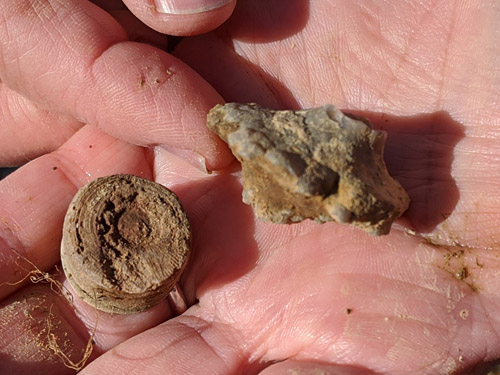 A squished
Eretmocrinus
calyx?
Photos by Lori Carter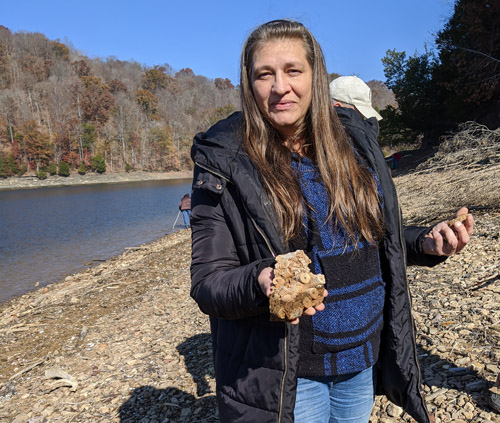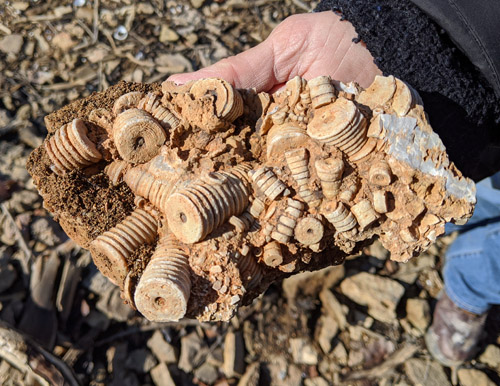 Sorry, forgot her name, but she found a superb plate of crinoid stems!
Photos by Lori Carter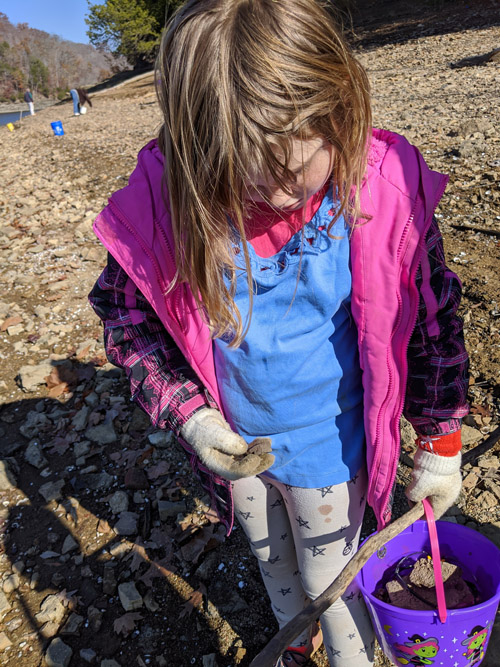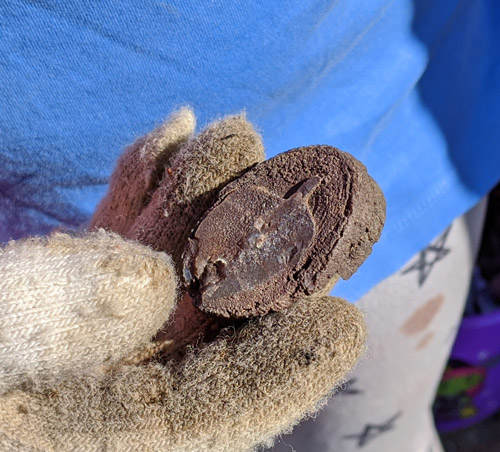 This junior found a large oval crinoid stem
Photo by Lori Carter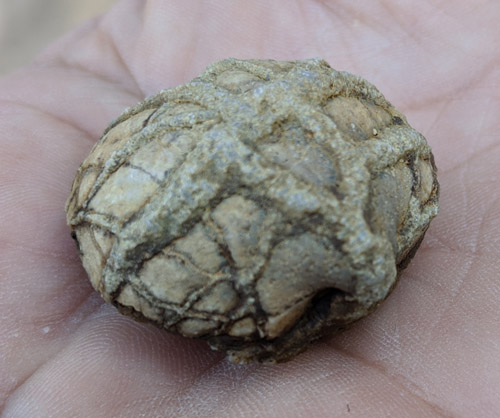 Brachiopod with a distinct, criss-crossing overgrowth
Photo by Lori Carter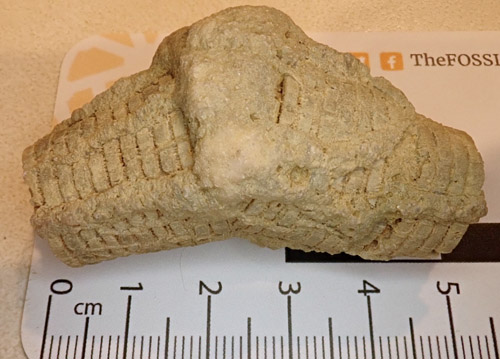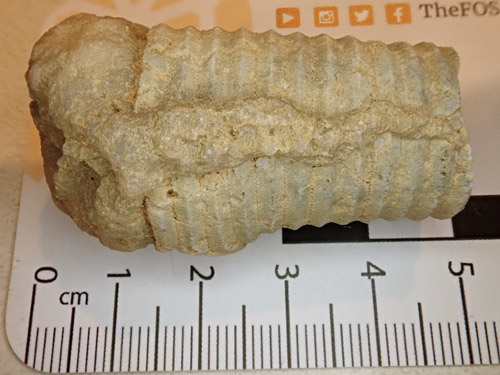 Crinoid stems with unidentified fossilized "goo"
Photo by Lori Carter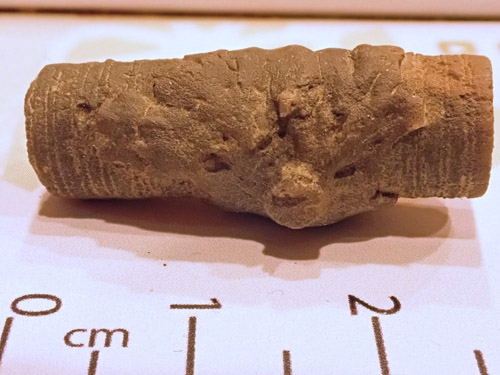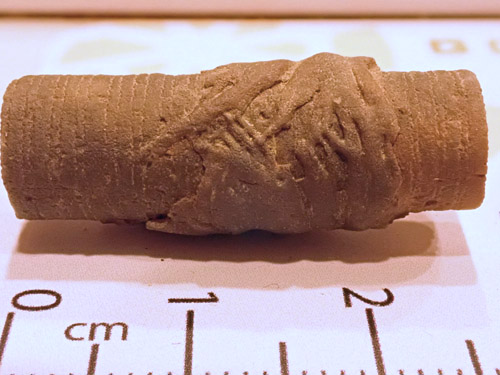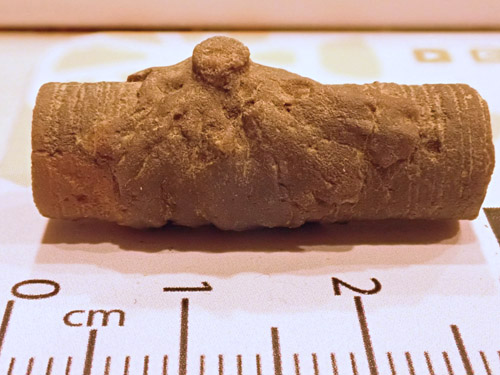 Crinoid holdfast wrapped around another crinoid stem
Photo by Lori Carter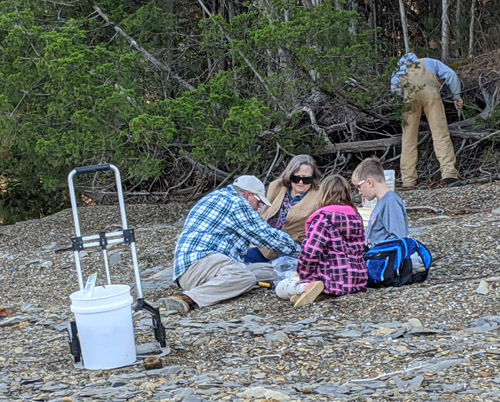 Learning how to break open geodes
Photos by Lori Carter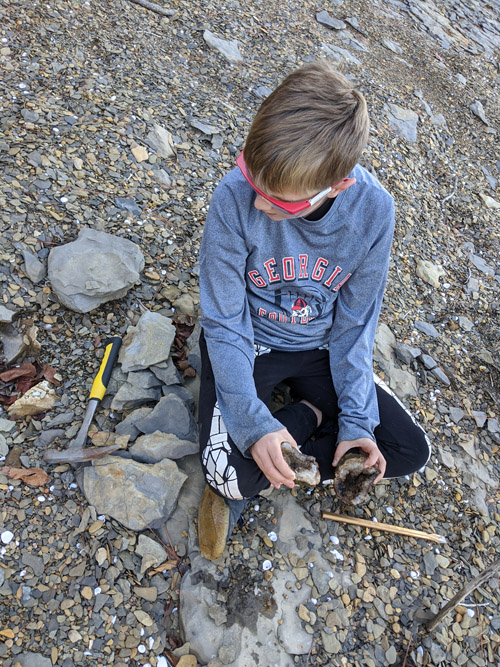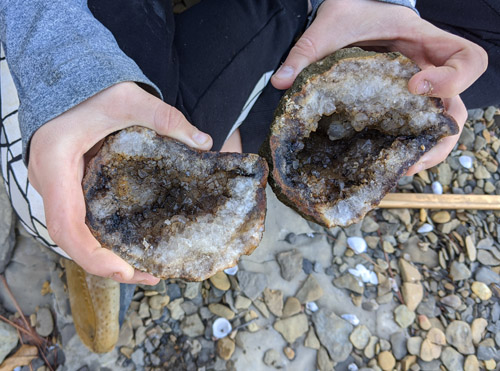 He found this beautiful geode and cracked it open himself!
Photos by Lori Carter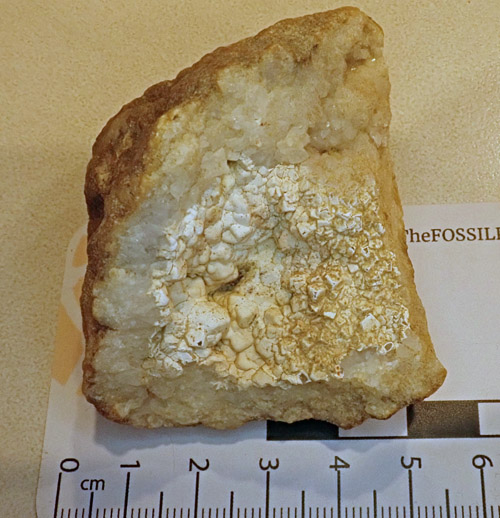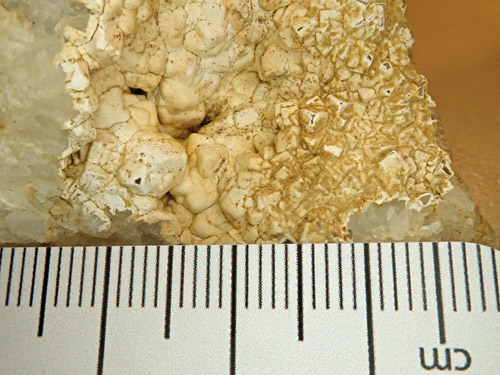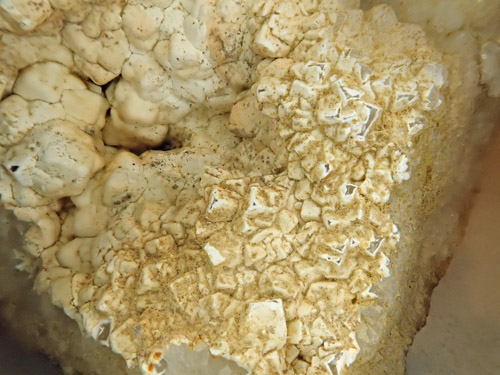 Geode fragment with cubic quartz coated with chalcedony
Click below for field trip policies