GMS Field Trip
If you have any questions about field trips send email to
GMS Field Trip
Calfkiller Agate & Mississippian Fossils in Tennessee
Friday, November 15, 2019
Collecting in quarries can be hit or miss -- you never know what sort of material is being exposed at any particular time nor what material will have ready access. This time it was a hit! The exposed material was fantastic, plus access to it was super easy. Everyone kept finding outstanding pieces. I was constantly running back and forth trying to get pictures of all the finds.
According to mindat.org, the stratigraphic name of the area is the Monteagle Limestone and its age is Mississippian (358.9 - 323.2 million years old). The place is primarily a limestone quarry, so as one might expect, we were finding fossils, but we were also finding agate nodules and veins. In addition, we observed stylolites, pressure dissolution structures that look like seismograms etched into the limestone. Looking at the strata exposed on the high walls of the quarry, there are at least two striking layers of green material visible. The lower one appears solid and the one higher up in the strata is fairly loose. We found many boulders with flat faces covered with the green material, possibly glauconite, and within the green, many marine fossils including gastropods, some crinoid pieces, and numerous brachiopods. One such boulder had some dark, shiny, fossils with tiny dots. Charles expertly extracted three pieces for me. They have been tentatively identified as coral, species to be determined.
[12-02-2020 UPDATE: Cam Muskelly has identified the fossils as "the crushing teeth of Deltodus which is a shell crushing Chondrichthyan. They are called sharks but are not really true sharks." Click here or scroll down to see pictures.]
The star of the day was the agate, often called "Calfkiller" agate. Its curious name comes from a river in Tennessee. It exhibits a range of colors. There are grays from practically colorless to pale blue gray to almost black; browns from watery "root beer" to dark, reddish-brown; and a few bright colors including reds, oranges, and yellows. We found all of these colors. The brown and reddish-brown agates are the most abundant, while reds, yellows, and oranges are a little more elusive. The blue hues, also fairly rare, seem to occur mostly in flat seams, often with flecks and splotches of deep purple fluorite. Diana Poppelreuter found a large seam of blue agate with some parts of the seam coated in fluorite. Anvar Hubbs found a seam of blue with a great deal of purple fluorite mixed in. I found a blue gray nodule with pockets of druzy balls reminiscent of the "grape agate" from Indonesia. Our understanding was that some of the material, particularly the less colorful agate, would fluoresce, so we made sure to collect several pieces. Later, we confirmed almost all of the agates with little or no color in daylight did fluoresce an intense, brilliant green under shortwave light. We also found several pockets of calcite. Some of the calcite fluoresces orange under shortwave and I was told that the calcite is a probable source of the fluorescence in the agate. Everyone found plenty of agate, including the more unusual colors, and we were all ecstatic at the variety we found.
It was an unbelievably good day at this quarry and everyone was grateful for the opportunity to collect there. Many thanks to the powers that be who allow us to visit this quarry (not named here out of respect for the privacy of the property) and all of the employees who made sure we were well-trained and safe. Also, thank you to field trip attendees who generously shared their finds with one another and waited patiently for me to take pictures. And, of course, thanks to Charles Carter for arranging this incredible trip!
Lori Carter
On behalf of Charles Carter, GMS Field Trip Chair
e-mail:
Photo by Keith Kowalski
View of the quarry
Photo by Lori Carter
Safety first, all equipment and safety gear verified
Photos by Lori Carter
The loose green layer high up on the quarry wall
Photos by Lori Carter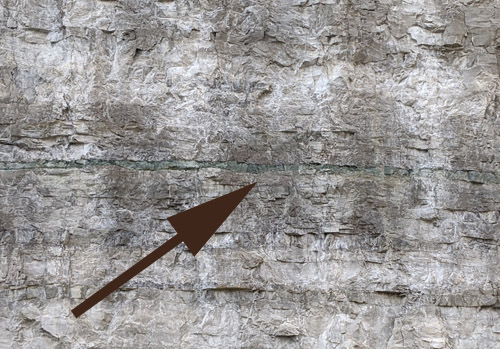 The more dense, solid green layer lower in the strata
Photo by Lori Carter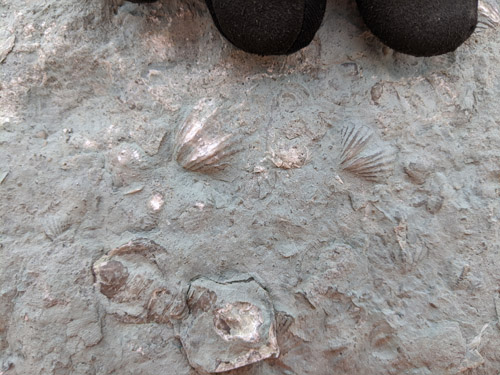 Typical fossils in the loose green layer (glauconite?) on a boulder
Photo by Lori Carter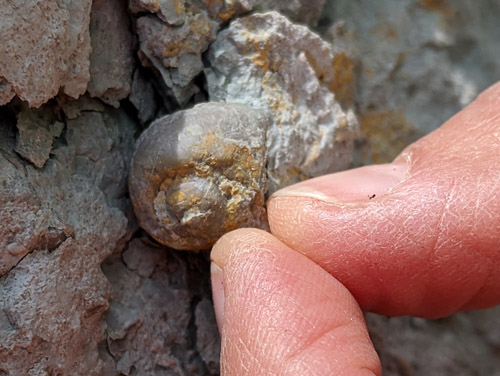 Diana found this gastropod weathering out
Photo by Lori Carter
Some of the fossils Diana extracted
Photo by Lori Carter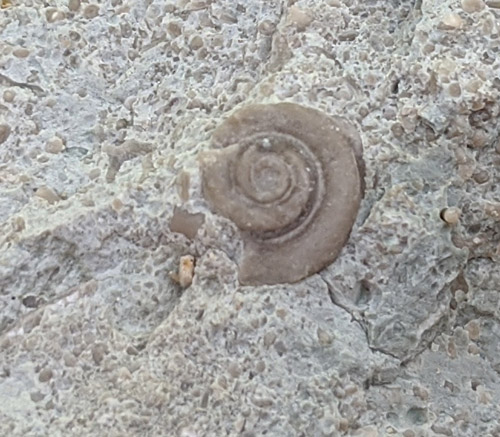 Close-up of Diana's tiny gastropod in matrix
Photos by Lori Carter
Unidentified tiny fossils in matrix that we were unable to extract
Tip of glove finger lower right for scale in top picture
Close-up in bottom picture
Photos by Lori Carter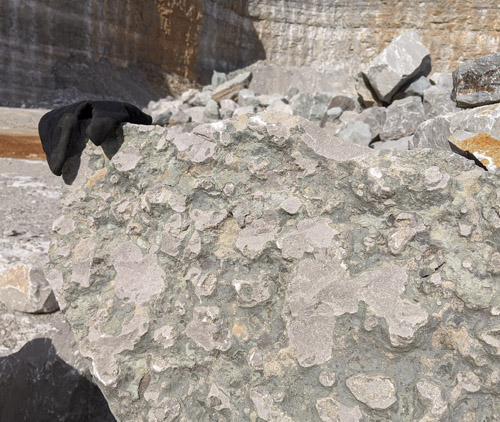 Boulder that had the Deltodus fossils (glove for scale)
One set in situ (tip of glove top left for scale)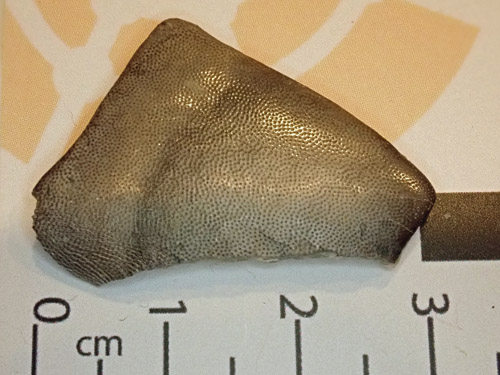 Larger of the two with close-up
Smaller of the two with close-up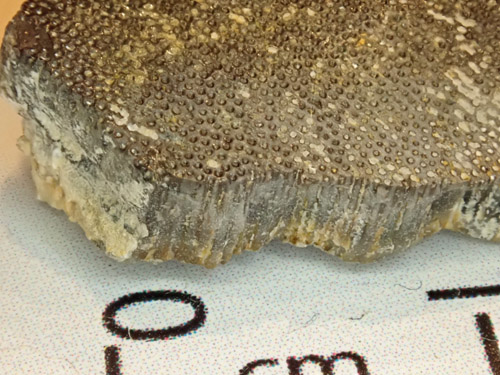 Another specimen in-situ followed by close-ups
Photo by Lori Carter
Calfkiller agate with a nice "eye" pattern
Photos by Lori Carter
Calfkiller agate with brown, red, yellow, and orange
Photos by Lori Carter
Ivy and his favorite big agate
Photo by Lori Carter
Juergen and his yard rock
Photo by Lori Carter
Charles on a quest for his own prize
Photos by Lori Carter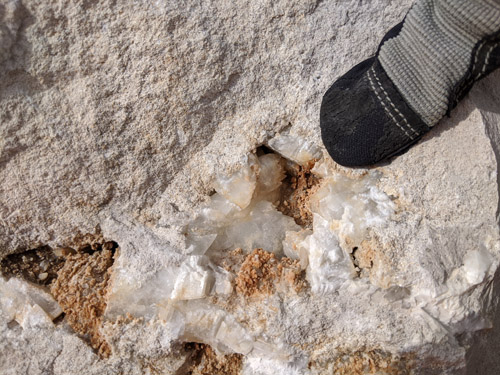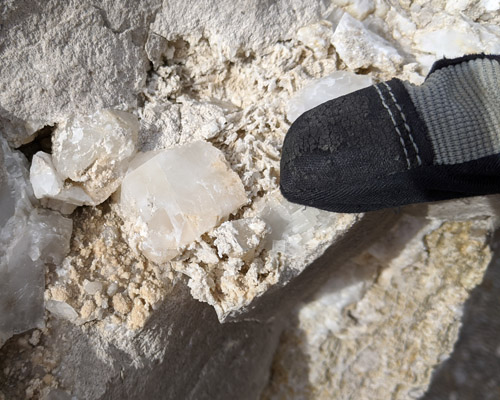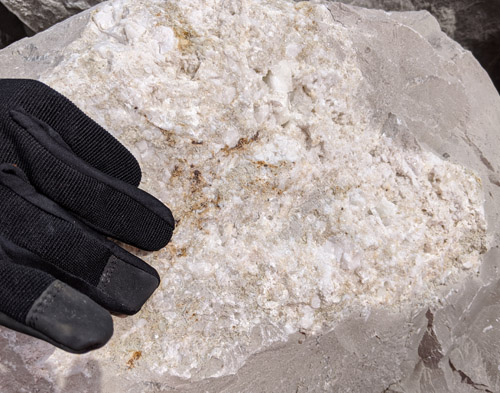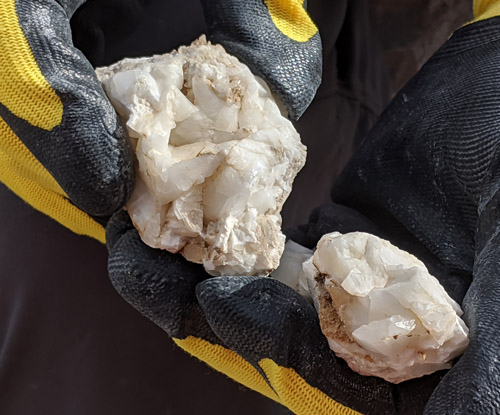 Calcite
Photo by Lori Carter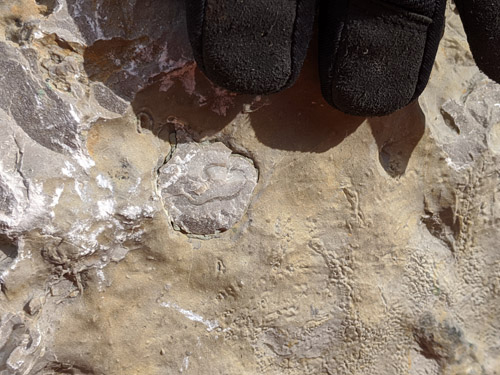 Tiny sedimentary structure with close-up
Photos by Lori Carter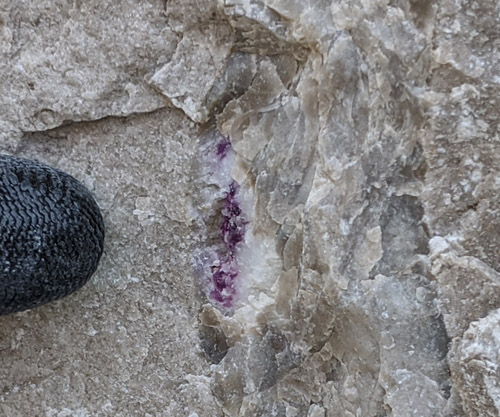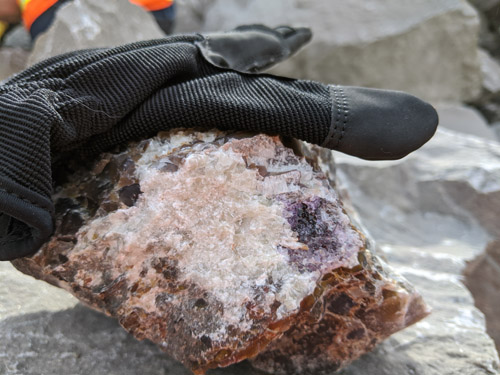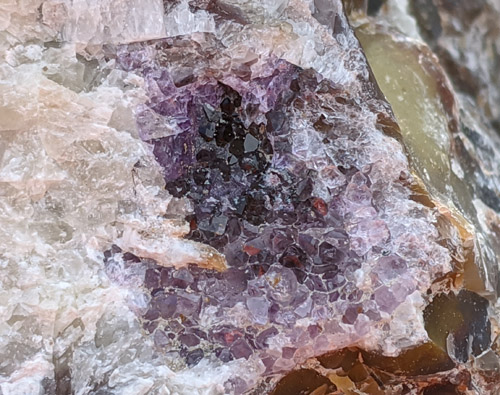 Deep purple fluorite
Photos by Lori Carter
Diana working on a blue agate seam
Photos by Lori Carter
Anvar's blue agate with purple fluorite
Photos by Lori Carter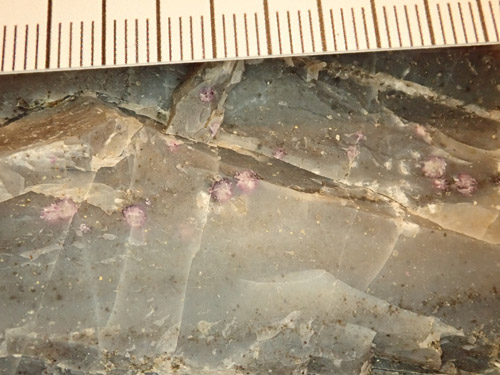 Blue seam agate with purple fluorite in limestone matrix
Photos by Lori Carter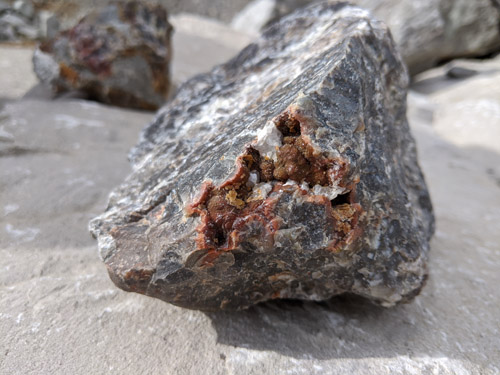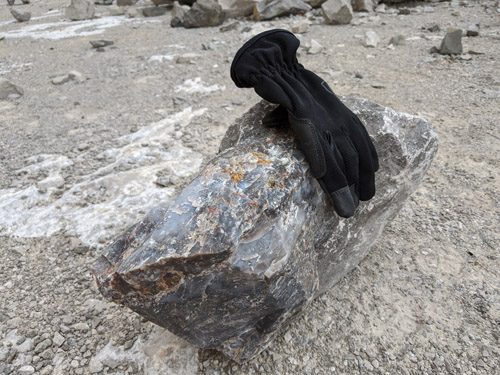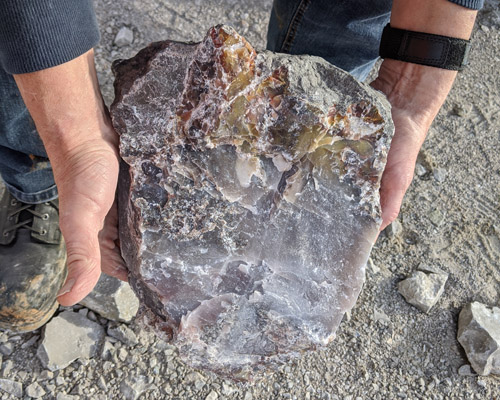 Gray, almost colorless agate that fluoresces under shortwave light
Photos by Lori Carter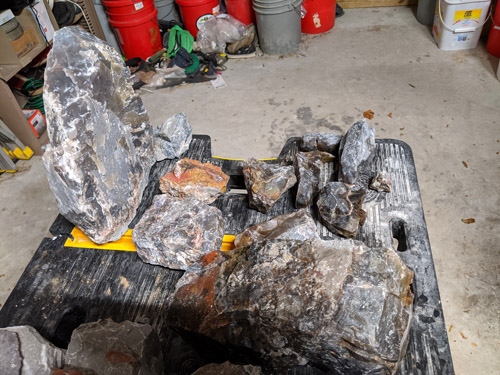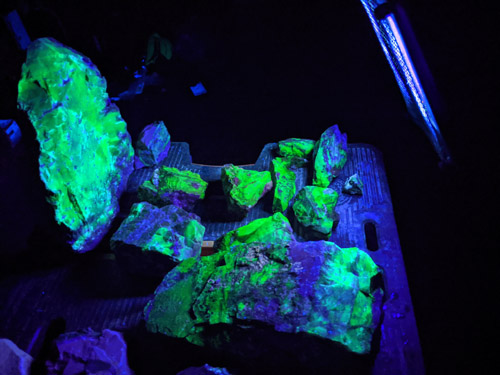 Agate under visible spectrum and shortwave
Photos by Lori Carter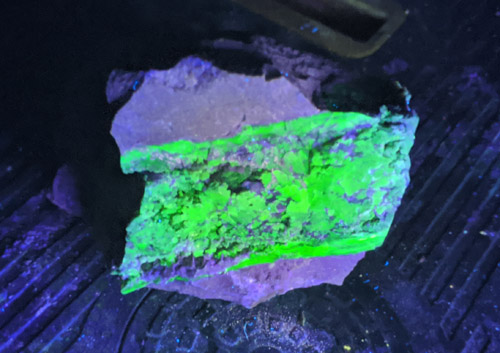 Blue agate nodule with close-up of druzy spheres
Photo by Lori Carter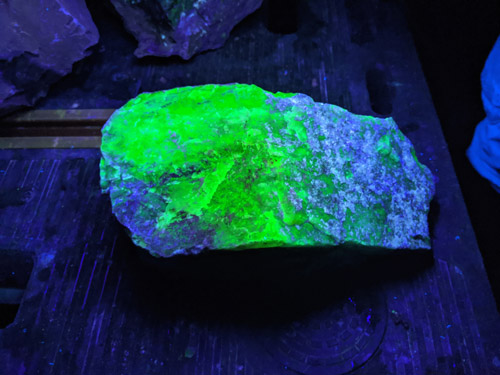 More eye candy
Photo by Lori Carter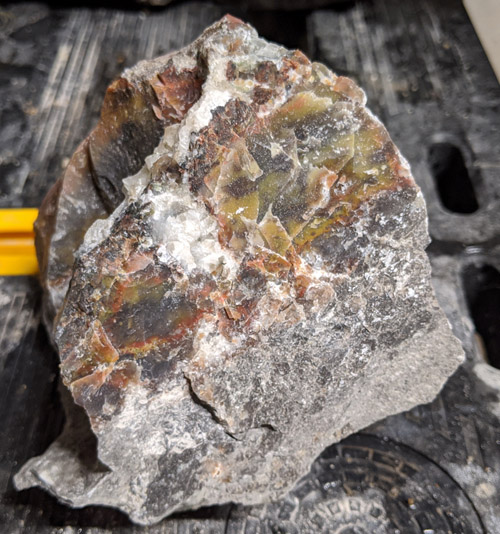 This one has color under both lights
Click below for field trip policies