&nbsp&nbsp&nbsp&nbspThe Georgia Mineral Society, Inc.
4138 Steve Reynolds Boulevard
Norcross, GA 30093-3059
GMS Field Trip
If you have any questions about field trips send email to
Kyanite!
GMS Field Trip
Kyanite in Georgia
Saturday, October 10, 2015
If the elements necessary for a successful field trip are rain, mud, stinky chicken poo, beautiful kyanite, and lots of fun -- then the October GMS field trip was a total success! At first we were concerned that the rain would be a problem, but turnout was still good and other than some soggy rockhounds, it really didn't have much impact. In fact, as the water dripped from roof lines, it helped wash and reveal kyanite. The mud it made was a little tricky to navigate, but digging through the moist overburden was no more difficult than it would have been if it were dry.
Our primary mission was to collect as much kyanite for grab bags as we could. Thanks to some industrious rockhounds, that task proved to be easier than we thought as we quickly collected more than a half of a five gallon bucket! Then we were rewarded with some of the best kyanite finds ever at this location. Several incredible kyanite cobbles (conglomerate pieces) were dug up as well as some large, beautiful kyanite blades.
Kyanite is an interesting mineral when considering hardness. Its hardness is anisotropic, meaning the hardness is different depending on the direction of the crystal. The longer side of a kyanite crystal is around 7 on the Mohs scale and on the shorter side around 5.5. Of course, depending on the current state of a crystal, longer and shorter is relative, but I think you get the idea. The anisotropic hardness can be used to identify kyanite as well as color, which in the Southeast tends to be blue, blue green, or white.
The kyanite from this location has graphite in it, so the color varies from blue to blue gray. Specimen pieces are superb while larger, thicker blades can be polished to reveal a bit of chatoyancy. It was weathering out all over the site so it was easy to find pieces on the ground and with a little bit of scratching and digging, a lot more could be had. The mica schist there is also abundant and some of it was worthy of bringing home too.
So, at the end of the day, we left a little damp and a lot muddy, but we had plenty of kyanite and even some prizes for our mineral displays. The property owners were incredibly gracious to allow us this collecting opportunity again. We thank them profusely for their personal involvement in ensuring the success of the trip! We must also thank GMS member Jim Haege for finding this location and field trip chair Charles Carter for arranging the trip!
Lori Carter
On behalf of Charles Carter, GMS Field Trip Chair
e-mail:
Getting Kyanite for Grab Bags
Photos by Lori Carter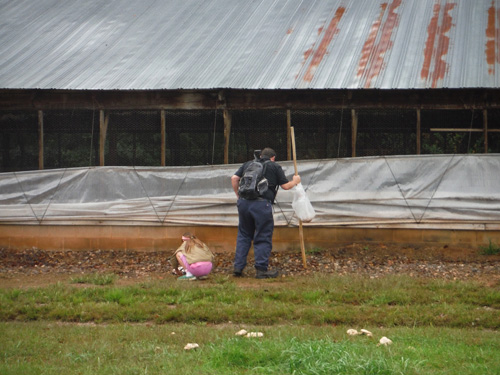 Kyanite was weathering out everywhere
Digging for Bigger Pieces
Photos by Lori Carter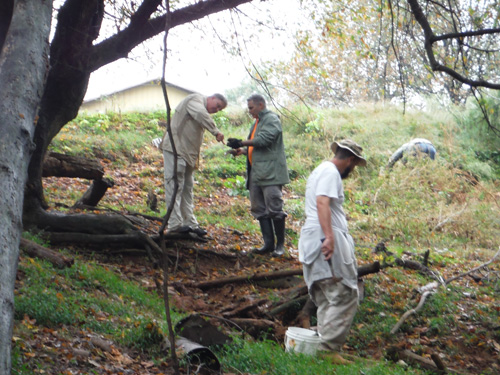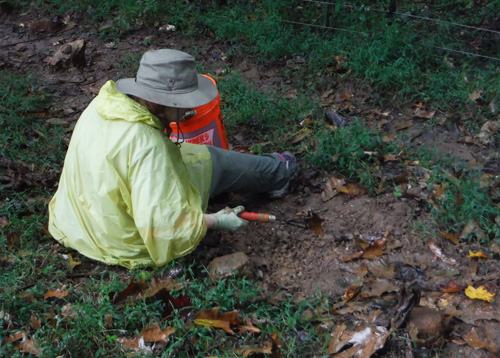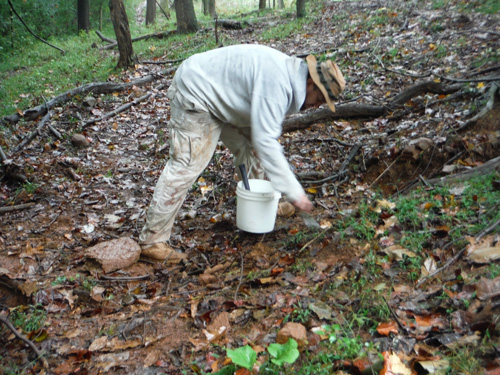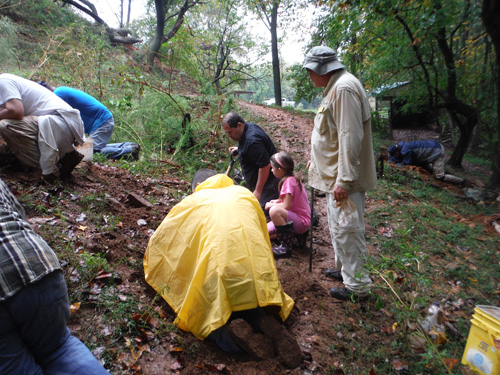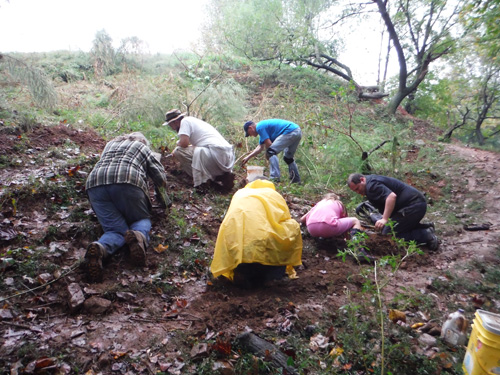 Large kyanite specimens could be found by digging just a few inches
Photo by Lori Carter
Charles found a nice sitting stump
Photos by Allen Free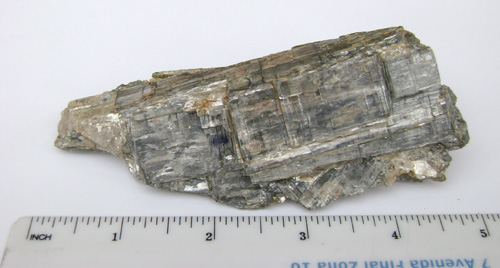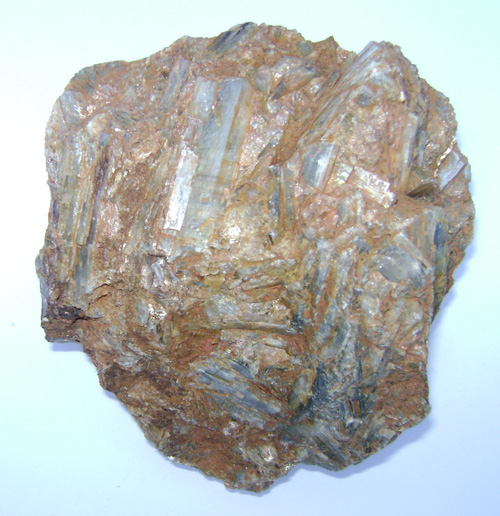 Allen Free found these beautiful specimens
Photos by Lori Carter
Daniel and Caroline had fun in the mud
Photos by Lori Carter
Caroline found a nice piece of kyanite
Photos by Lori Carter
Daniel photobombed Caroline so I photoshopped him out
Photo by Lori Carter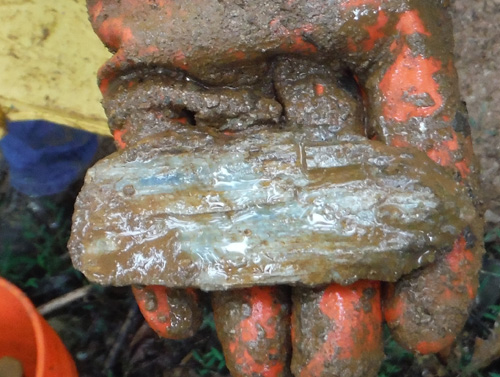 A really large kyanite blade
Photos by Lori Carter
A pretty cobble from two angles to show shape and color.
This piece looks good even while it's still dirty!
Photos by Lori Carter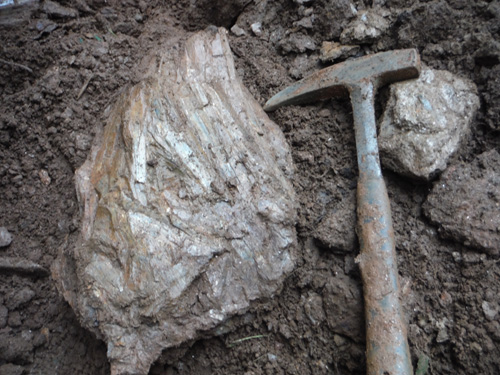 Lizabeth McClain worked on this "iceberg" until it was liberated.
Notice the "smaller" cobble by the head of the hammer!
Photos by Lori Carter
There were so many impressive cobbles extracted on this trip!
Photos by Lori Carter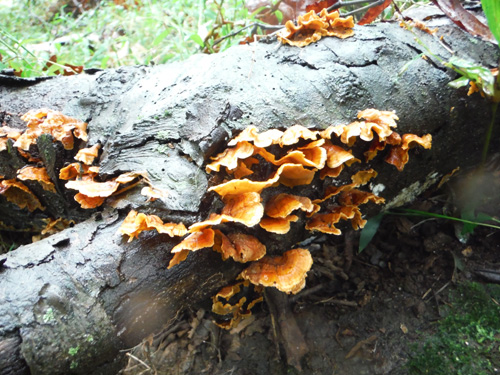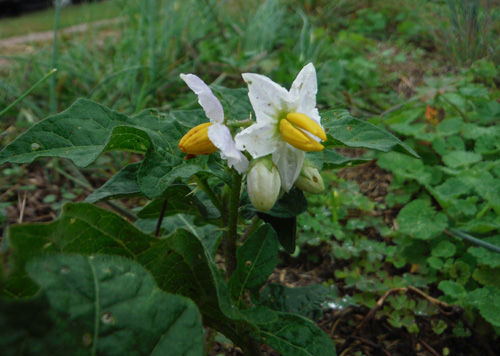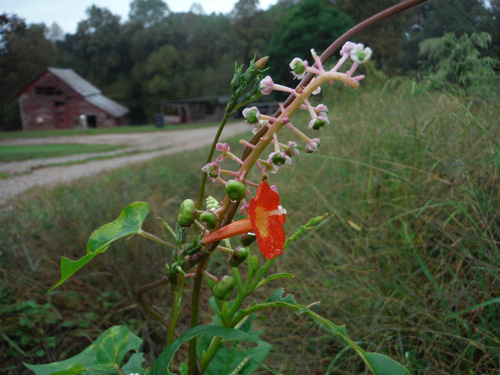 Pretty plants there too!
Click below for field trip policies