&nbsp&nbsp&nbsp&nbspThe Georgia Mineral Society, Inc.
4138 Steve Reynolds Boulevard
Norcross, GA 30093-3059
DMC Field Trip
GMS is the founding member of the
DMC field trip program of the SFMS
If you have any questions about field trips send email to
Photos of specimens by the Gem & Mineral Society of Lynchburg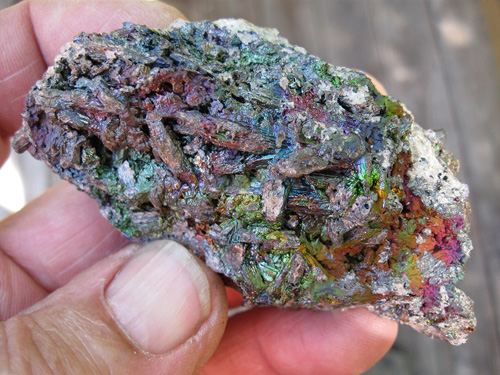 Iridescent hematite on kyanite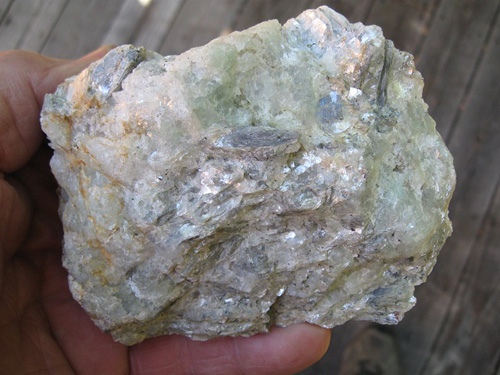 Trolleite with mica and kyanite
Mica and kyanite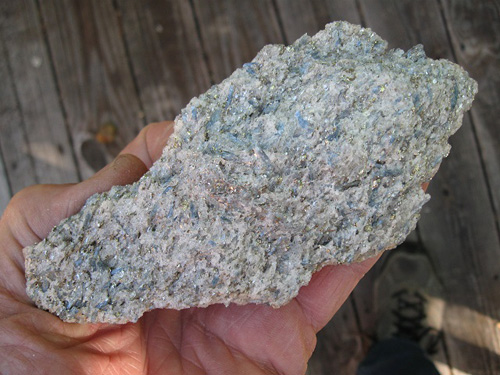 Blue kyanite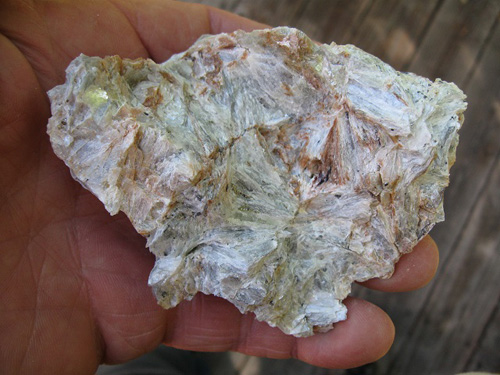 White kyanite
DMC Field Trip
Gem & Mineral Society of Lynchburg, Virginia
Saturday, August 22, 2015
On a pretty August day in Virginia, this kyanite mine was covered with rocks and rockhounds. GMS was well represented by 6 members. Members of the host club, the Gem & Mineral Society of Lynchburg, had a table with samples from the mine. There were samples of apatite, fuchsite, muscovite mica, pyrite, white kyanite, blue kyanite, rutile, and even iridescent hematite plus a mineral called trolleite that is found only at this location and in Sweden. After verifying everyone was equipped with the proper safety equipment and after a thorough safety talk, we were let loose. The collecting area was enormous so there was no problem finding a good spot to collect.
Lynchburg club members and kyanite mine employees gave us advice on where to look and what to look for. We parked next to a big pile of sand so it couldn't get any easier for me. Charles quickly found kyanite and some unusual pyrite. The tiny pyrite crystals are not cubic, but maybe 14 sided. Charles found a decomposing boulder of kyanite and pyrite so I collected a baggie of sand from that.
We also got into an area with iridescent hematite. If any of this sounds familiar, then you must know about Graves Mountain in Georgia. The mineralogy of both places is very much alike, so much so that we had to remind ourselves we were not at Graves.
After our time in the mine was over, the Lynchburg club had a barbecue lunch ready for us in a comfortable shady pavilion. People traded rocks and stories and made new friends until we had to head home.
The trip was well organized and the location was perfect for so many people. Lynchburg club members and quarry employees were very welcoming and helpful. It was a pleasure to attend another successful DMC trip!
Lori Carter
On behalf of Charles Carter, GMS Field Trip Chair
e-mail:
Photo by Lori Carter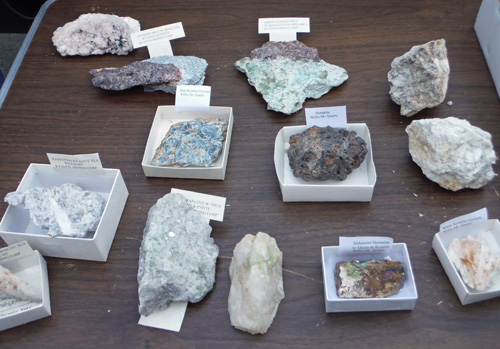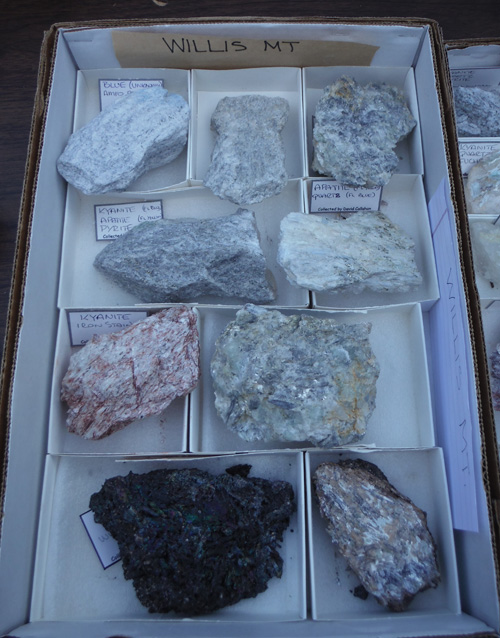 Lynchburg club members brought specimens for everyone to see
Photo by Lori Carter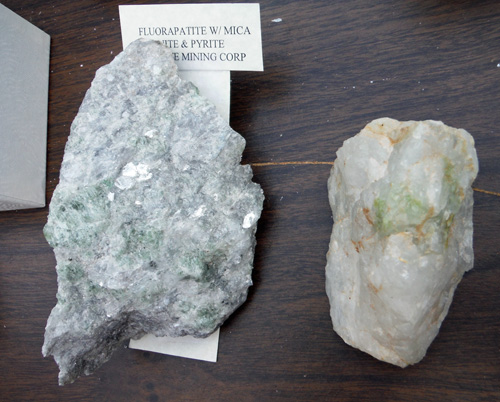 Fluorapatite (left) and trolleite (right)
Photo by Lori Carter
Rockhounds waiting for safety check and briefing
Photo by Lori Carter
A boulder of blue kyanite was by the mine office
Photo by Lori Carter
Close-up of the blue kyanite boulder
Photo by Lori Carter
Dave Callahan from the Gem & Mineral Society of Lynchburg
Photo by Lori Carter
GMS Field Trip Chair Charles Carter by a sand pile
Photo by Lori Carter
Material was abundant and easy to collect
Photo by Lori Carter
Views from the mountain
Photo by Lori Carter
A vug of iridescent hematite in a boulder
Photo by Lori Carter
Iridescent hematite (so reminiscent of Graves Mountain!)
Photo by Lori Carter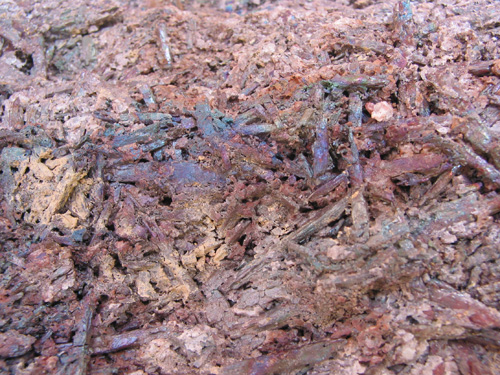 Iridescent hematite on kyanite
Photo by Lori Carter
Kyanite that is reminiscent of pyrophyllite from Graves Mountain
Photo by Lori Carter
Another example of hematite
Photo by Lori Carter
Pale green fuchsite, a variety of muscovite mica
Photo by Lori Carter
Pyrite with white kyanite
Click below for field trip policies