&nbsp&nbsp&nbsp&nbspThe Georgia Mineral Society, Inc.
4138 Steve Reynolds Boulevard
Norcross, GA 30093-3059
DMC Field Trip
GMS is the founding member of the
DMC field trip program of the SFMS
If you have any questions about field trips send email to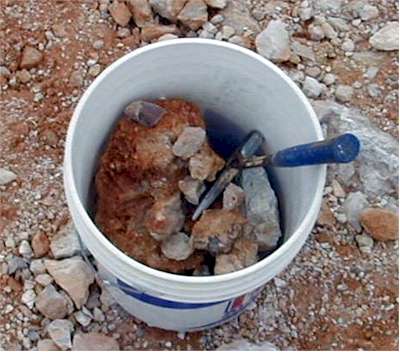 Photos of rock goodies by the Mobile Rock & Gem Society
DMC Field Trip
Mobile Rock and Gem Society
Sunday, June 7, 2015
Despite an initial scheduling hiccup, the June DMC field trip was well attended. Rockhounds from around the Southeast came to collect the beautiful lace agate there. Having been there many times ourselves, Charles and I mostly visited people and offered advice.
The Mobile Rock and Gem Society had a couple of tents up so people could stop by for a cold drink and donuts and relax in the shade. Everyone seemed to be finding plenty of material and having a good time.
Many thanks to the Mobile club for setting up a great trip as well as the Southeast Federation DMC program for making trips like this possible.
Lori Carter
On behalf of Charles Carter, GMS Field Trip Chair
e-mail:
Photo by Lori Carter
People starting finding things right away
Photo by Lori Carter
Is that hole really that deep? No, he's just looking at some rocks.
Photo by Lori Carter
This rockhound found a way to beat the heat
and
be stylish
Photo by Lori Carter
In situ
Photo by Lori Carter
Nice example of a piece with concentric banding
Photo by Lori Carter
The Mobile Rock & Gem Society set up a tent where collectors could get a cold drink and donuts
Photo by Lori Carter
Happy rockhounds
Click below for field trip policies