&nbsp&nbsp&nbsp&nbspThe Georgia Mineral Society, Inc.
4138 Steve Reynolds Boulevard
Norcross, GA 30093-3059
GMS Adopt-a-Highway Field Trip
If you have any questions about field trips send email to
Old Mine

GMS Adopt-a-Highway Field Trip
Mica and Various Minerals in Georgia
Saturday, April 4, 2015
GMS members got a special collecting treat after the April Adopt-a-Highway trash pick-up. Charles Carter made arrangements to collect at two different locations -- a famous mine
and
a place full of litle garnets!
According to various Georgia Geologic Survey bulletins, the mine we visited is a large pegmatite determined to be about 350 million years old. Mining began there in 1933 for the mica. Then, during World War II the demand for beryllium increased and the mine became a source for beryl. From 1942 to 1945, over 4,000 pounds of beryl was mined for strategic beryllium stockpiles. As late as 1985, mica and beryl were being extracted by hand at the mine.
The first thing you notice when you enter the mine is the mica. There is a small hill of mica that sparkles even on a dreary day, but on a sunny day like we had that Saturday it was dazzling! We stopped at the mica hill to collect mica for grab bags. As you go further into the mine, you begin to see more yellow and golden colored quartz and if you are lucky, you may find a beryl crystal. Mickey McClain found a beautiful aquamarine crystal and Ivy Edwards found several pieces of aquamarine as well as some pieces of beryl.
Charles was on a quest for schorl tourmaline and though he did not get the large piece he hoped for, he did manage to collect many small pieces as well as some material for grab bags. I ended up with 2 different samples of sand to examine :o)
After we filled our buckets and bags at the mine, we caravanned to the garnet location. There were garnets everywhere! The small almandine garnets are weathering out of mica schist. Some are rounded by weathering but many have nice sharp crystal faces. All we had to do was reach down and pick them up. Within less than an hour everyone had as many garnets as they wanted. Casey Sosebee scooped a pile of garnets into a bucket to clean later for grab bags. Charles and I did the same thing, then screened and washed them the next day for grab bags. Got some sand from washing the garnets :o)
Many thanks to the owner of the mine for giving us permission to collect there as well as the property owners at the garnet location who let us tromp through their yards to collect garnets. Also, many thanks to Charles Carter for working so hard to get access to both locations!
Lori Carter, on behalf of
Charles Carter, GMS Field Trip Chair
e-mail:
Location 1: Mica and Various Minerals
Photo by Lori Carter
The fantastic pale blue aquamarine crystal Mickey McClain found
Photo by Lori Carter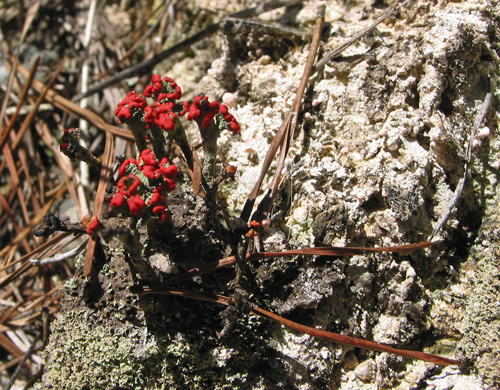 Pretty lichens were everywhere
Location 2: Almandine Garnets
Photo by Lori Carter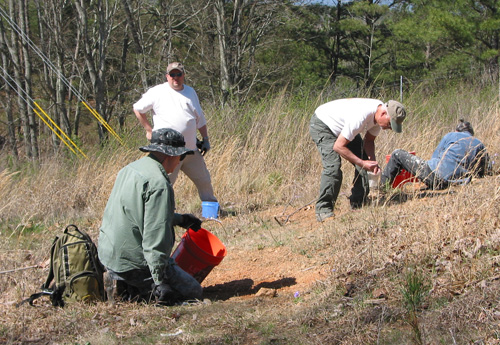 So many garnets all you have to do is pick them up!
Photo by Lori Carter
Picking up tiny garnets
Click below for field trip policies