&nbsp&nbsp&nbsp&nbspThe Georgia Mineral Society, Inc.
4138 Steve Reynolds Boulevard
Norcross, GA 30093-3059
GMS Field Trip
If you have any questions about GMS field trips send email to
GMS January Field Trip
Granite Tours and Collecting in Georgia
Saturday, January 26, 2013
Another fantastic trip. We all met at the museum on time and left for the quarry. The granite quarry had a sign made out of the granite and we took a group photo. We learned a lot about the quarry from Bill Hood our guide. We collected some feldspar and granite and looked at pegmities and also some diabase dikes that were very large and interesting.
Next we went to another quarry that was very very deep. Seems to have been about 200 ft straight down.
Then we had a lunch break and left for a processing plant. We were led through the process of cutting, polishing, molding, and sandblasting.
We then went to collect leftovers and found different types of material from across the planet; 6 of them I have never collected before.
Next we went back to the EGA (Elberton Granite Association) Museum for a tour and watched a movie. We all liked the trip so much that over 50 dollars was collected to donate to the EGA and all said they would like to do the trip again. 2 juniors attended and had a great time.
On the way home, we stopped to see the Georgia Guidestones, which are about seven miles north of Elberton.
Charles Carter, GMS Field Trip Chair
e-mail: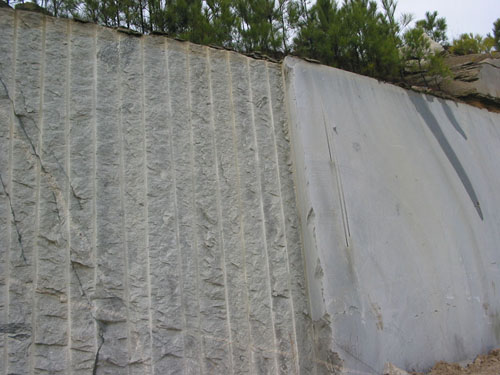 The first thing we noticed was the stark difference between the old way of mining (left) and the new way (right)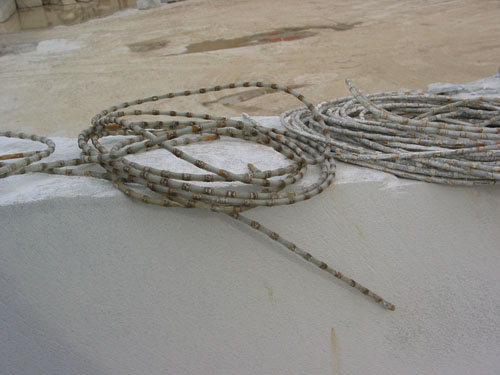 Before, they drilled many holes to split the granite.
Now they use "chains" impregnated with diamond to "cut" the granite
You can see the radius of the "chain" cut on this wall where a chain broke during mining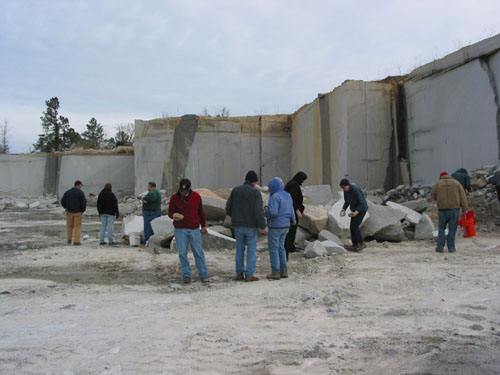 A single diabase dike running through one of the quarry walls
looks like several dikes because of the way blocks were removed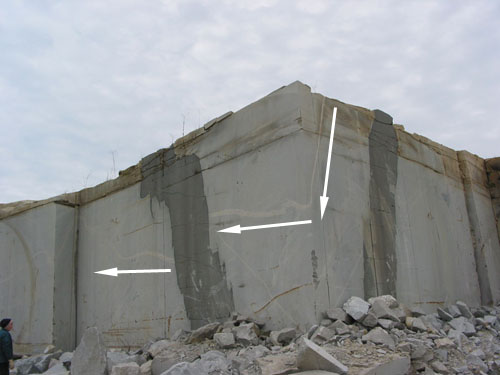 At one point the diabase dike was intersected by a pegmatite, then there was a shift that interrupted the pegmatite line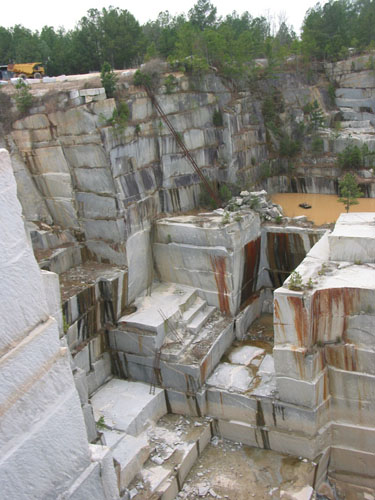 This quarry is very deep compared to its width.
Notice the truck in the upper left and the ladders workers must use inside the pit.
At the processing plant, Bill Hood (left) explained all of the processes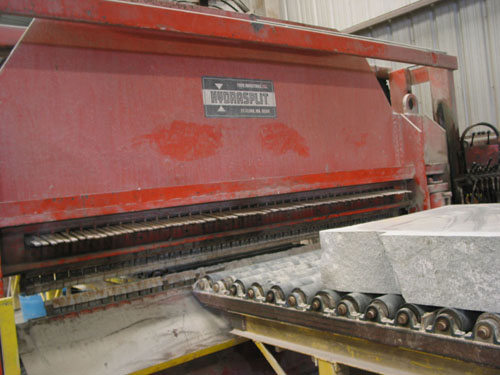 This huge splitter would be a good start for our resident micromounters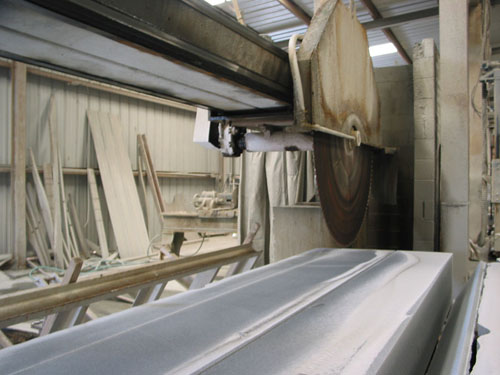 The massive saws ride rails and cut a little deeper on each pass through the granite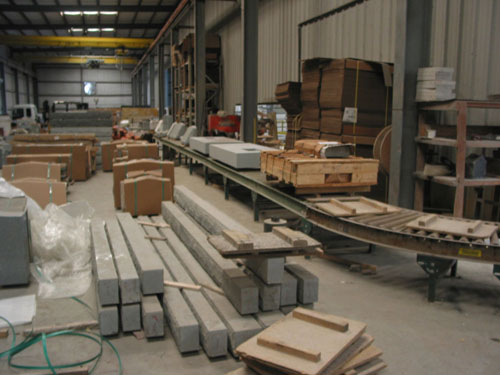 Imagine all of the dust and the noise of the saws, polishers, grinders, and sand blasters when the plant is active
We were like seagulls circling over a landfill as we searched for goodies in the scrap piles behind the plant
A quick stop at the Georgia Guidestones just north of Elberton
A sample of the various scraps and native material from the trip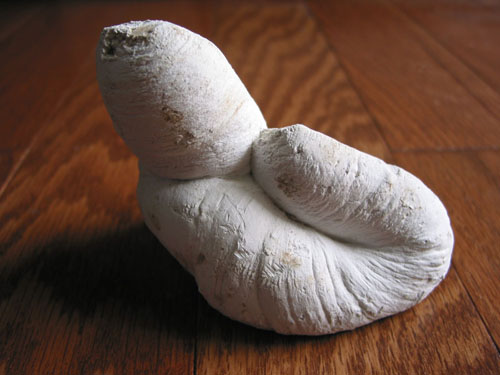 Plaster poo from the processing plant
Click below for field trip policies