GMS Field Trip
If you have any questions about GMS field trips send email to
GMS December Field Trip Report
Roswell, GA
Friday, December 14, 2012
Our first stop was at Excel Geotechnical Testing, Inc. where they greeted us warmly with hot coffee and donuts. Dr. Nader S. Rad, Ph.D., P.E., a recognized authority in the area of laboratory and field testing, gave us a brief introduction about their role in the geotechnical world. Then he walked us through the processes they perform from logging in the samples to washing, shaking through successive sieve sizes, and the tests they perform. Their primary responsibility is to gather data about the soil samples to help engineers determine if a location is suitable for landfills, large buildings, roads, and other types of large construction. The lab analyzes soil for properties such as permeability, compaction, strength, and compressibility. Because many of their samples come in 5 gallon buckets, Nader had stacks of buckets for us to take home.

From there we went to a famous Roswell eatery called The Swallow at the Hollow. We enjoyed delicious barbecue, so much so that the only picture we have is the last few bits on Bill Waggener's plate before he licked it clean.

A short trip from there and we were at FlameTree Glass where Lance and Maureen McRorie showed us around their glass studio, then invited us to watch as Lance created a stunning goblet. Lance explained everything he was doing and taught us about glass in general. He demonstrated some glass blowing techniques and we were mesmerized as a clear tube of glass magically transformed into the base of the goblet – way too cool to describe. Then, because he had pre-made the top of the goblet, he concentrated on the stem – a mermaid sculpture. The sinewy hot glass slowly took shape as he sculpted the tail, followed by the torso, then the head, the arms, and finally a graceful ribbon flowing between the mermaid's hands. As he assembled the pieces, the goblet took its final form. He placed the finished piece upside down into an annealer so it could cool down in a controlled environment. Look for it in the display case at the GMS building the next time you are there.

Vickery Creek was as beautiful as always and the weather was perfect for a leisurely hike. At the end of the day, everyone agreed that it was a unique, unorthodox field trip and it was definitely an enjoyable and memorable one.

Charles Carter, GMS Field Trip Chair
e-mail: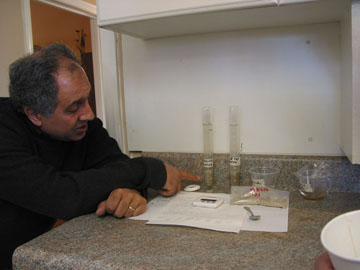 First Stop: Soil Analysis Lab
Dr. Nader S. Rad explains one of the soil tests they were conducting
Soil samples arrive in 5 gallon buckets and guess who got to take home as many as we could carry?
Soil is shaken vigorously through multiple calibrated sieves before testing
Second Stop: Swallow at the Hollow
www.swallowatthehollow.com
Lunch was so delicious we almost forgot to take a picture!
At least we got one picture before this plate was licked clean!
Third Stop: FlameTree Glass, Inc.
www.flametreeglass.com
Lance McRorie demonstrates and explains flameworking techniques as Kim Cochran watches
The mermaid goblet Lance McRorie demonstrated is beginning to take shape.
Look for the finished goblet in the display case at the GMS building.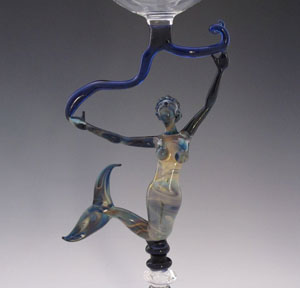 The finished goblet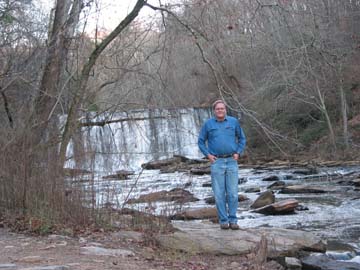 Last Stop: Vickery Creek Park
The weather was perfect for a hike around Vickery Creek Park.
Field trip chair Charles Carter stopped in front of the Vickery Creek Dam to soak up the sun.
Some of the original cotton mill machinery is still on view at Vickery Creek Park
Click below for field trip policies