Sunshine News
The Georgia Mineral Society is more than a club -- it is a family. When someone in the GMS family has good news or unfortunately, bad news, the rest of the club is there to congratulate or hold hands.
The Sunshine Chair gathers and reports club member news.
If you have any questions about Sunshine or if you have some news to share, please send email to
Sunshine News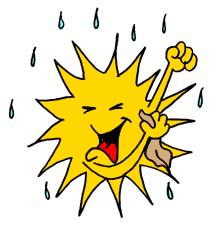 Congratulations to Dot and Dennis Buchanan who are celebrating their 58th wedding anniversary! We wish the couple continued joy and happiness together for many years to come.

Dianne Poppelreuter was scheduled for gallbladder surgery after July 4. We wish you a very successful outcome and a speedy recovery.

Bill Sokol is recovering from a bout with pneumonia. His wife Beth is grateful for our concerns. Beth says he is fine. We send well wishes.

Please call me [phone number in the newsletter -- webmaster] or email with any sunshine news. Thank you, Kim Cochran, for faithfully keeping me updated each month.

Mary Provost
Sunshine Committee


Sunshine News!