Sunshine News
The Georgia Mineral Society is more than a club -- it is a family. When someone in the GMS family has good news or unfortunately, bad news, the rest of the club is there to congratulate or hold hands.
The Sunshine Chair gathers and reports club member news.
If you have any questions about Sunshine or if you have some news to share, please send email to
Sunshine News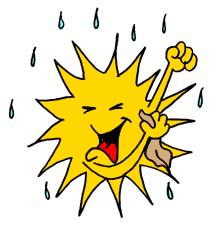 Wow, summer is just flying by, my grandmother always said, "The older you get, the faster time goes." She just passed at 104, must have been clicking by like lightning. Hope everyone's summer is going well.

[One member] is recovering from surgery and we are keeping you in our thoughts for a speedy recovery.

[A GMS couple is] celebrating 29 years of wedded bliss, congratulations on just getting started, you two are great together.

Please contact me if you hear of anyone who is ill, celebrating a mile stone, or just needs some sunshine, email me at or call me at [please see the August Tips and Trips for the phone number and more details -- webmaster]

Jane Stone
Sunshine Committee


Sunshine News!