&nbsp&nbsp&nbsp&nbspThe Georgia Mineral Society, Inc.
4138 Steve Reynolds Boulevard
Norcross, GA 30093-3059
2017 RAD Studio Tour
GMS at RAD Studio Tour
Decatur, GA
Saturday, April 1, 2017
Once again, GMS was invited to entertain people at the RAD Studio Tour in Decatur, GA. RAD stands for Rail Arts District. There are many art studios in the area and once a year, several studios open their doors for demos and other activities. GMS members set up outside Atlanta Hot Glass, a glass working studio. We greeted visitors and told them about the demos inside, and we told them about all of the fun we have at GMS, too.

Mary & Doug Gurney, Shelley Stubbs, and I were in the GMS information booth. Many people came by to get grab bags, t-shirts, coloring books, and stickers. They got to see lots of rocks and learn about GMS. At the GMS demo booth, Juergen Poppelreuter demonstrated cutting slabs; Colis Antley and Charles Carter demonstrated cabbing; and Diana Poppelreuter demonstrated wire-wrapping. When we had time, we would take turns running into the glass studio to watch glass blowing demos.

It was a fun day under our new GMS tent and everyone had a great time!
Photo by Lori Carter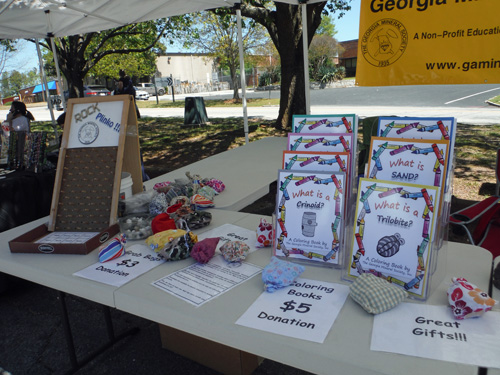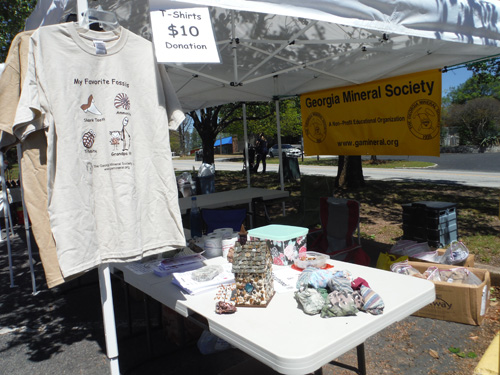 GMS information booth under our new tent!
Photo by Lori Carter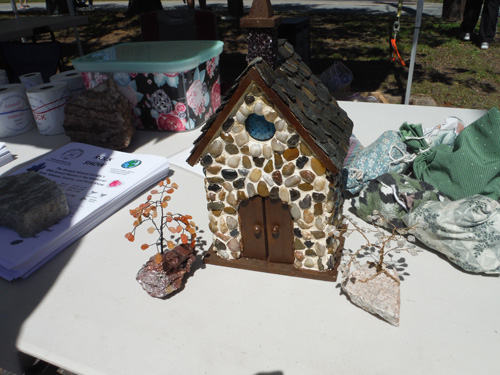 Mary Gurney made this cute little rock fairy house
Photo by Lori Carter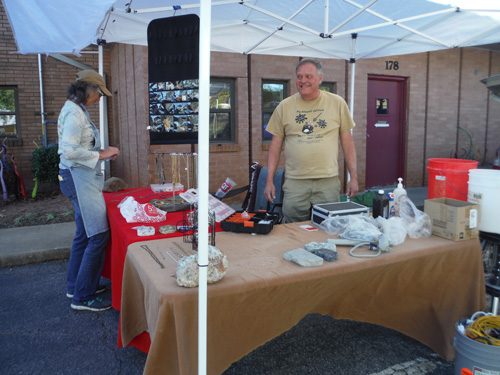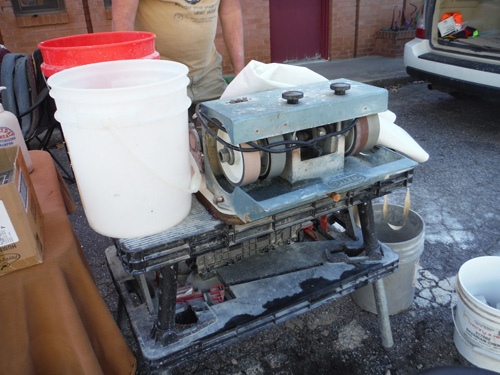 Diana and Charles had fun at the demo booth
Photo by Lori Carter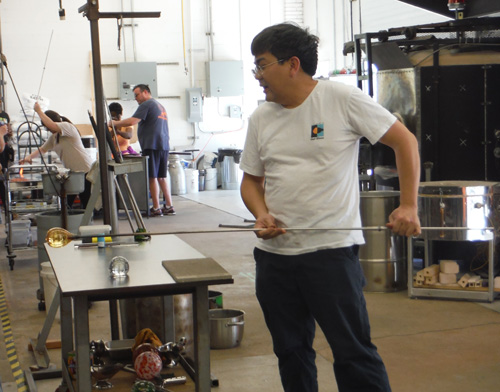 Brian Wong Shui demonstrated glass blowing.
Here he is just starting.
Photo by Lori Carter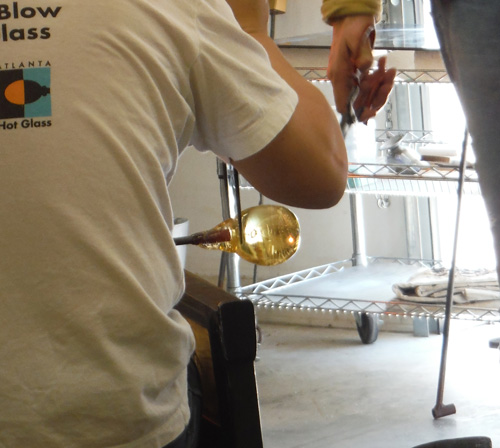 Shaping the glass
Photo by Lori Carter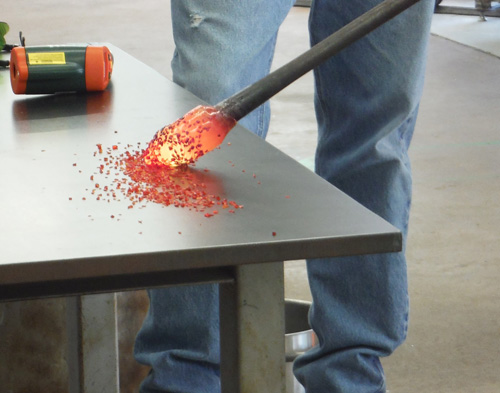 Adding colored glass
Photo by Lori Carter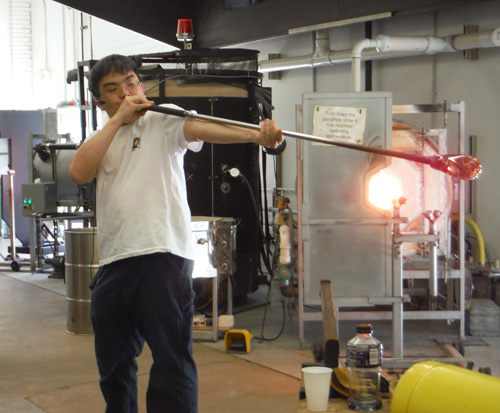 Blowing to get a hollow form
Photo by Lori Carter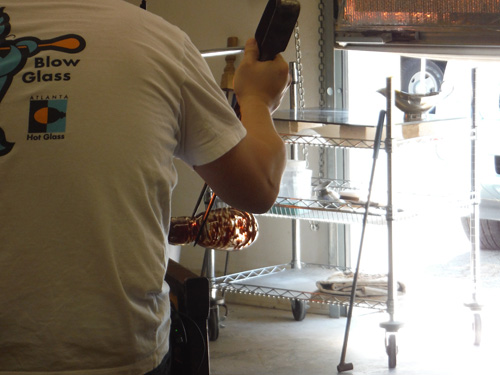 More shaping on the hollow
Photo by Lori Carter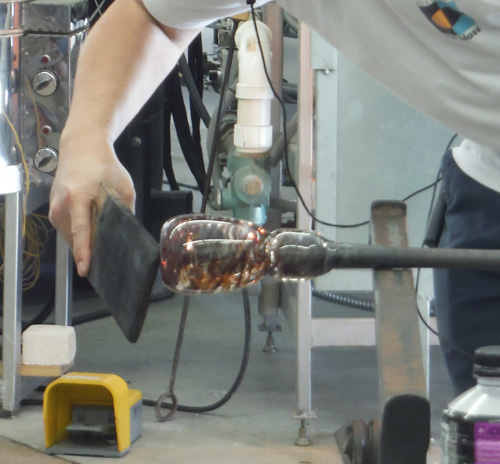 Flattening the bottom
Photo by Lori Carter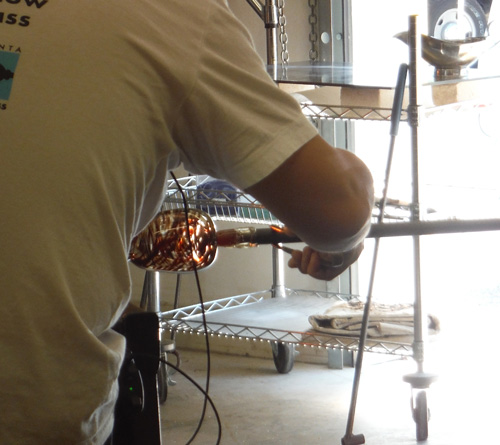 Attaching another rod to the flattened area so the piece can be turned around and opened up
Photo by Lori Carter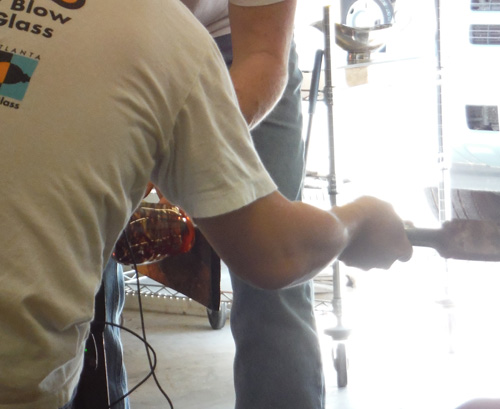 Opening the top
Photo by Lori Carter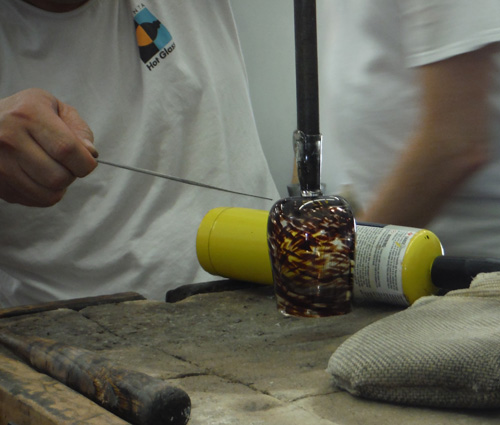 Prepping the glass to remove it from the rod
Photo by Lori Carter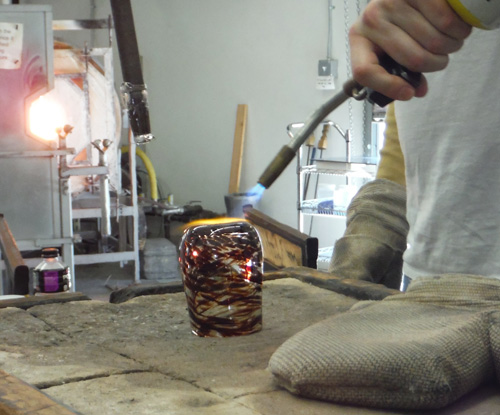 The finished piece getting a final fire polish on the end