&nbsp&nbsp&nbsp&nbspThe Georgia Mineral Society, Inc.
4138 Steve Reynolds Boulevard
Norcross, GA 30093-3059
2015 Roswell National Night Out
GMS at National Night Out
Roswell, GA
Tuesday, August 4, 2015
For the 4th year, Lawrence & Shirley Parker and Charles & Lori Carter represented GMS at the Roswell National Night Out Event. National Night Out is an annual community-building campaign that promotes police-community partnerships and neighborhood camaraderie. Many community organizations, corporate sponsors, as well as Roswell police and firefighters were there to support the event.

At the GMS table we played "Rock not Rock" with visitors. Everyone who played received a polished rock that they could use to play "Rock Plinko" for another rock or a fossil! Lots of people signed up for a free GMS raffle, but only one lucky young gentleman named Walker won a beautiful geode from Brazil!

There were plenty of stickers and lots of fun for everyone. Some people even came back with their friends so they could play some rock games too. We even received some free gifts, ice-cream, snacks, hot dogs, water, and great goodies from other participants!
Photo by Lori Carter
Shirley in uniform
Photo by Lori Carter
The GMS table was hopping with activities
Photo by Lori Carter
Lawrence is a perfect barker for the "Rock not Rock" game and Shirley keeps the fun going with "Rock Plinko"
Photo by Lori Carter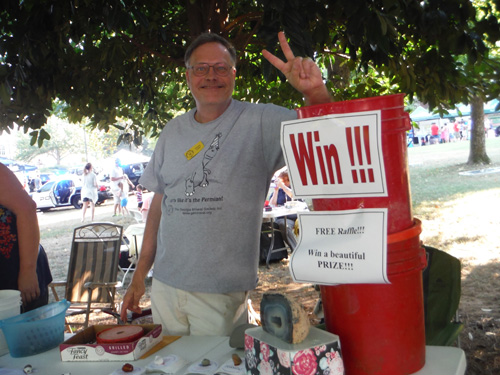 Charles entertained people while they signed up for the raffle
Photo by Lori Carter
The raffle prize was a gorgeous Brazilian geode
Photo by Lori Carter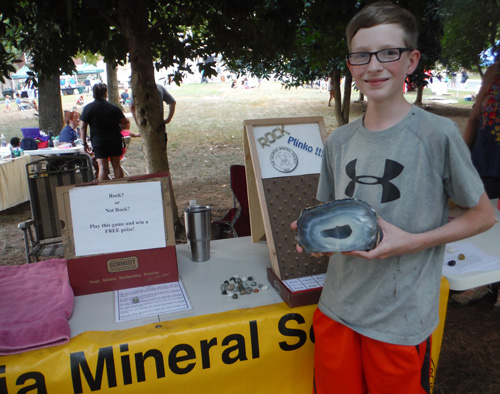 Our new friend Walker won the geode!
Photo by Lori Carter
The happy winner with his prize