&nbsp&nbsp&nbsp&nbspThe Georgia Mineral Society, Inc.
4138 Steve Reynolds Boulevard
Norcross, GA 30093-3059
2014 Fort Daniel Frontier Fair
GMS at Fort Daniel Frontier Fair
Buford, GA
Saturday, September 20, 2014
Shelley Stubbs, Charles Carter, Lori Carter, and Mary Gurney were on hand to represent GMS at the Fort Daniel Frontier Fair. Tom Batcha and Linda Batcha lended their tent plus they hauled everything back and forth to the event. Leslie Perry and Frank Perry were also there as members of the Gwinnett Archaeological Research Society and the Fort Daniel Foundation.

GMS was invited as a vendor so we decide to sell grab bags and made a "fool's gold" mining game for kids to go along with the frontier theme.

We met a lot of nice people and even signed up a new family. One young gentleman had so much fun learning about rocks he would take every chance he could from his family's booth to come hang out with us!

It was a beautiful day and all of us had a great time.
Photo by Lori Carter
Shelley Stubbs and Charles Carter at the GMS booth
Photo by Lori Carter
Mary Gurney in her pioneer outfit
Photo by Lori Carter
Me in my old gold miner outfit
Photo by Lori Carter
Charles with the contents of a grab bag displayed in a gold mining pan (brilliant idea Shelley!)
Photo by Lori Carter
A musket ball found at the site during an archaeological dig there
Photo by Lori Carter
Close-up of the musket ball -- they asked our help in determining what the dots are
Photo by Lori Carter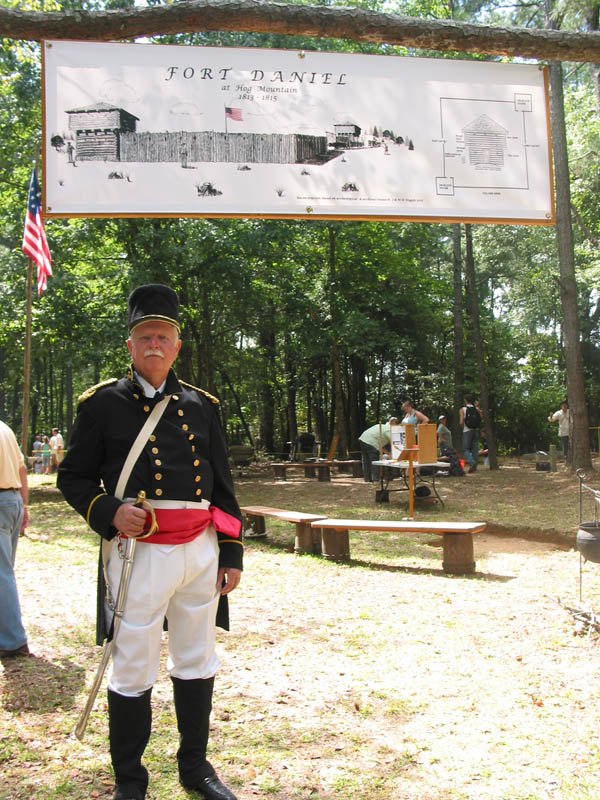 Major General Allen Daniel