&nbsp&nbsp&nbsp&nbspThe Georgia Mineral Society, Inc.
4138 Steve Reynolds Boulevard
Norcross, GA 30093-3059
Annual Holiday Party Meeting
December 2018
The GMS halls were decked with holiday cheer thanks to special events chair Terrilyn Price. And the tables were decked out with so delectable food thanks to GMS members that it spilled out into the lobby! Anne Whittaker wowed everyone with another incredible, edible geode cake, like the cake she made for the 2018 Rock Show. It was so beautiful that members decided instead of eating it, we would auction it. Bidding was fierce, but Shelley Stubbs was victorious.
After our bellies were full, numbers were drawn for gift exchange. It was a magical evening thanks to the efforts of Terrilyn, Anne, and Diana Poppelreuter, as well as all of the GMS members who came to share their joy.
Lori Carter, Webmaster
Photo by Lori Carter
Some of Santa's elves were on hand to spread cheer
Photo by Lori Carter
Dessert table decorations looked as yummy as the desserts!
Photos by Lori Carter
The tables were decorated with cute characters
Photos by Lori Carter
Anne Whittaker made this gorgeous geode cake (with edible geodes!!!)
Photos by Lori Carter
Food, glorious food!
Photo by Lori Carter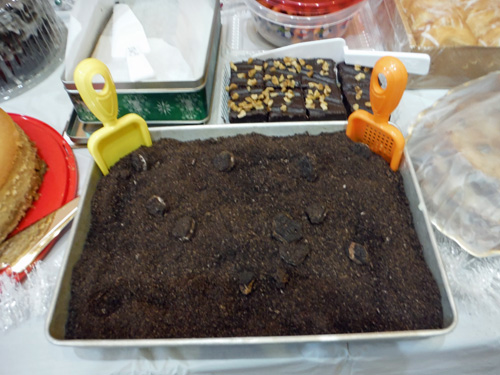 Is this the way to a rockhound's stomach -- a dirt cake complete with shovels?
Photo by Lori Carter
Beautiful, sparkly tree
Photos by Lori Carter
Gifts just waiting to be opened
Photos by Lori Carter
Sharing peace and joy and goodwill to all