&nbsp&nbsp&nbsp&nbspThe Georgia Mineral Society, Inc.
4138 Steve Reynolds Boulevard
Norcross, GA 30093-3059
Annual Holiday Party Meeting
December 2017
The December meeting at GMS was a lovely Holiday Gala! Members whipped up delicious sides and desserts while the club provided the main entree and drinks. Vice President Tom Batcha substituted for an under the weather President Shelley Stubbs. After a quick business meeting, we got down to the real business -- food, friendship, and gifts!
The tables were sparkly and beautiful and the room was so pretty! Many thanks to Special Events Chair Mary Rauzi (with an assist from Anne Whittaker and Diana Poppelreuter) for making this event so fun!
Lori Carter, Webmaster
Photo by Lori Carter
The tables were so pretty as everyone gathered around for some holiday cheer
Photo by Lori Carter
Bring a gift, get a gift!
Photo by Lori Carter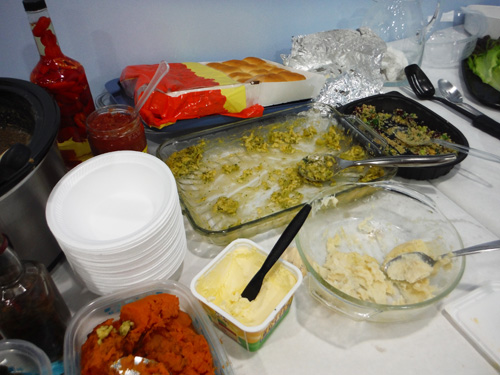 As usual, I forgot to get pictures of the food before it was decimated...
Photo by Lori Carter
...but I managed to get the desserts before they were all gone
Photo by Lori Carter
Great ending to a great party!