&nbsp&nbsp&nbsp&nbspThe Georgia Mineral Society, Inc.
4138 Steve Reynolds Boulevard
Norcross, GA 30093-3059
5th Annual Auction Meeting
January 2016
Kim Cochran treated members to another of his annual auction meetings. He selected items carefully so there was a perfect mix of goodies in the 50 lot auction.
Despite a case of laryngitis, Kim auctioneered with his usual blend of knowledge and humor.
Members went home with some great buys and the club received over $1200 to add to the education fund.
Many thanks to Kim Cochran for another fun event!
Lori Carter, Webmaster
Photo by Lori Carter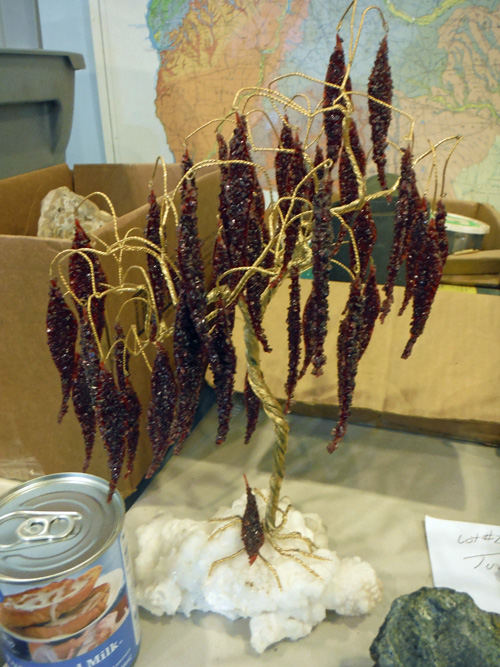 Unusual gem tree made with little garnet chips
(Plus a can of condensed milk)
Photo by Lori Carter
Fossil fish from Wyoming with tool and instructions for prepping the fossil
Photo by Lori Carter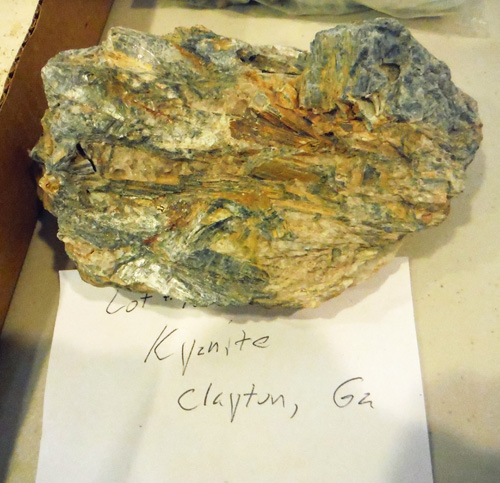 Pretty kyanite cobble
Photo by Lori Carter
Some jade, malachite and lapis. And some peas.
Photo by Lori Carter
Beautiful calcite specimen plus X-men movies
Photo by Lori Carter
Another unusual gem tree made with carnelian chips
Photo by Lori Carter
A nice assortment of rings
Photo by Lori Carter
Spectacular ammonite specimen
Photo by Lori Carter
Big box of goodies for juniors only
Photo by Lori Carter
Junior box included a nice sock
Photo by Lori Carter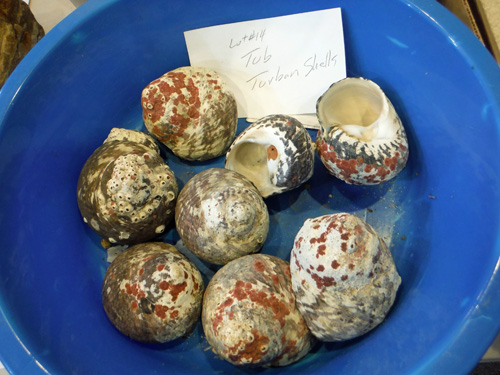 Lovely turban shells from the Philippines
Photo by Lori Carter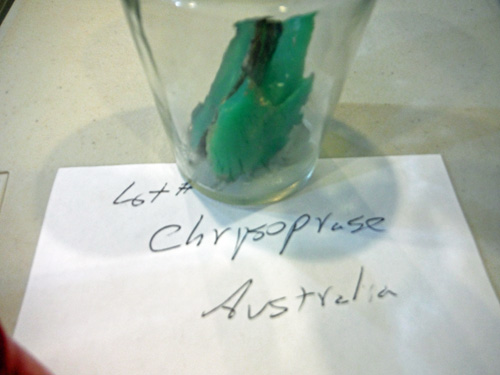 Stunning chrysoprase slabs from Australia (picture does not do these justice!)
Photo by Lori Carter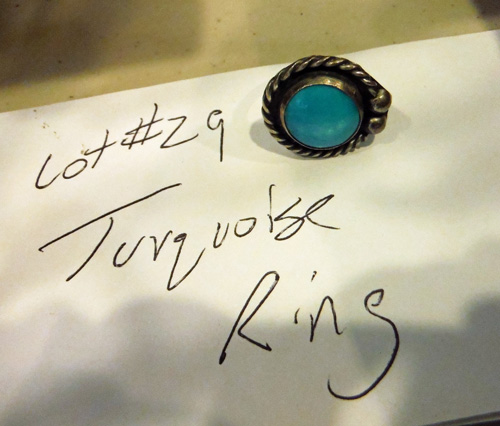 Gorgeous turquoise ring