GMS Field Trip
If you have any questions about field trips send email to
GMS Field Trip
Rutile, Quartz, Smoky Quartz, Mica in North Carolina
Saturday, March 17, 2018
Because it was the first trip to this location for GMS and a new location for clubs in general, none of us knew what to expect, so we loaded up a variety of tools and forged ahead. Parking was not far from the dig areas, but the terrain was a little tricky here and there with some up and down hiking required, so a wagon or cart that could handle rough terrain was useful for all the tools. There were four general areas and each yielded different levels of difficulty, results, and specimens.

In a large, exposed quartz vein, people were hard rock mining in hopes of finding a nice vug, but alas, no vug was found. The pieces that came out were interesting though, as they had colorful iron staining and interesting growth striations. This area also had a lot of quartz with embedded mica books and some of the massive quartz is smoky.

Another area under some trees was easier to dig and was best for screening rutile needles. People were doing pretty well there, though the needles were small.

Screening by a creek also produced many rutile needles and some of those were up to 2 inches long. All of the rutile needles have a deep red color when viewed with a bright light, so they will make beautiful specimens.

There was also an area in a bank along a trail where people were having some moderate success digging smoky quartz. I saw at least one pretty crystal on matrix from that area.

The property owner is working small areas at a time, but he said we could dig anywhere we wanted, so we were not restricted to the areas I described, though I think most people worked those areas anyway.

Many thanks to the property owner for allowing us to collect there, and many thanks to our contact who graciously answered my pesky questions via email. GMS has been invited back, so there will be future trips. What areas will we work? Who knows, but it should be fun!

Lori Carter
On behalf of Charles Carter, GMS Field Trip Chair
e-mail:

Photos by Lori Carter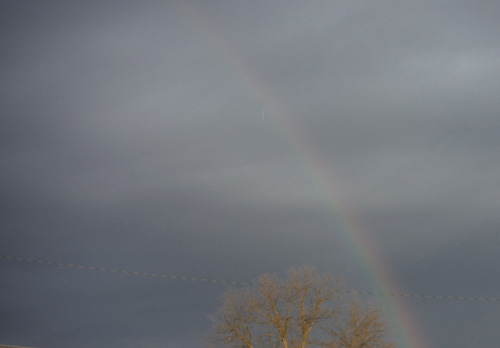 There was a double rainbow while we were signing forms.
Maybe it was a lucky sign since it was also St. Patrick's Day!
Photos by Lori Carter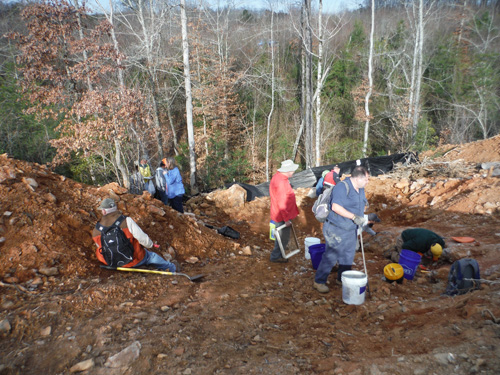 This area required some "hard rock mining"
Photos by Lori Carter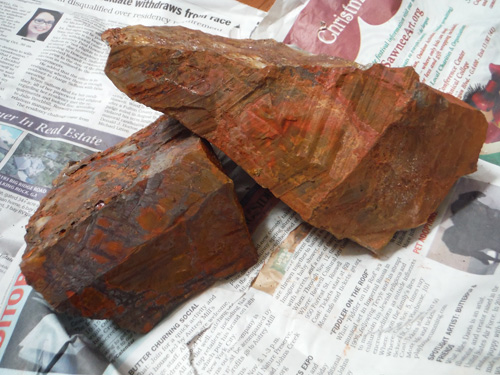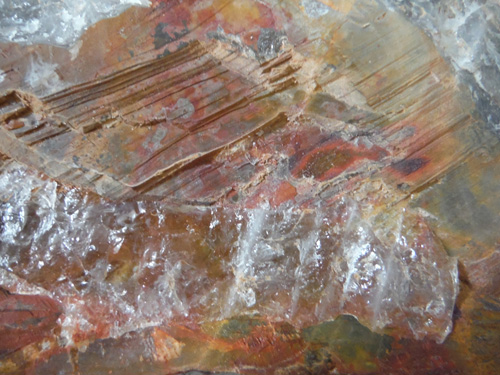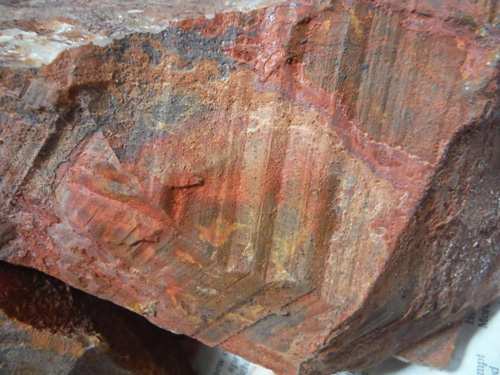 The quartz there had colorful stains and growth striations
Photo by Lori Carter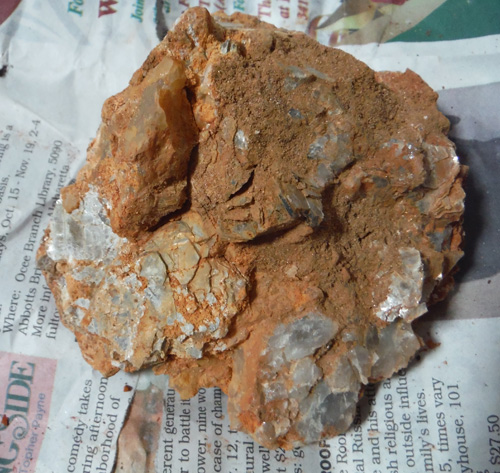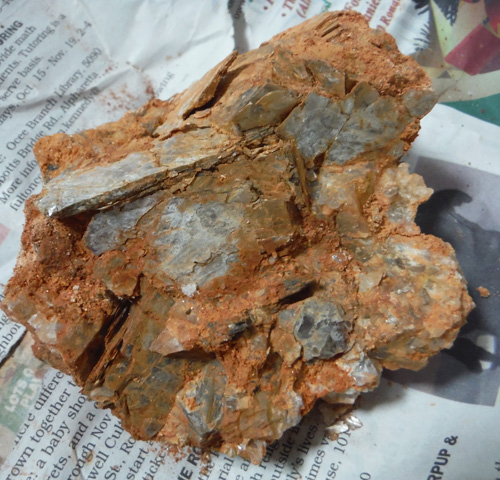 Quartz with mica books embedded (still dirty)
Photo by Lori Carter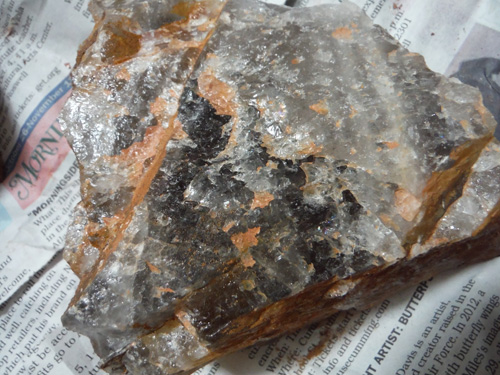 There was some massive smoky quartz in the vein
Photo by Lori Carter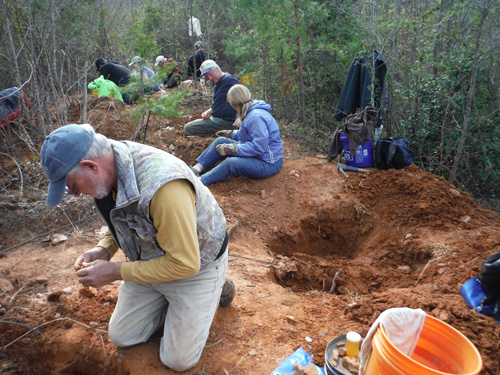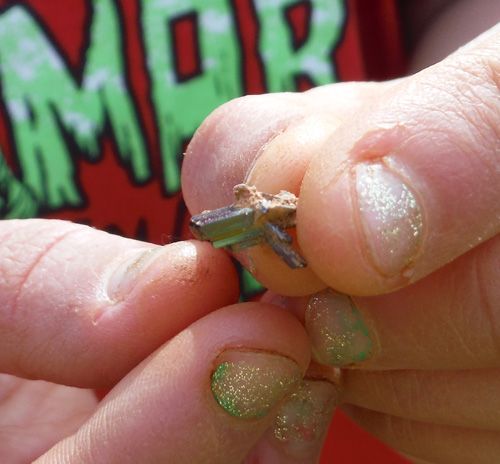 Digging and screening for rutile
Photo by Lori Carter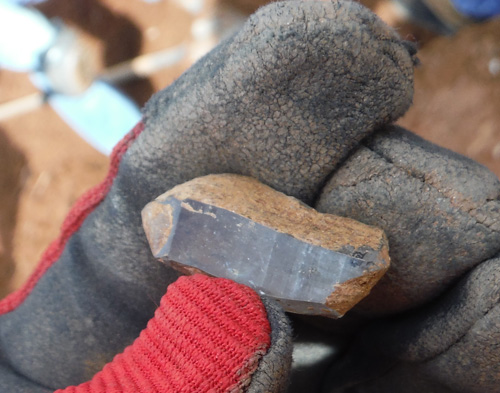 An almost double terminated quartz point, possibly smoky
Photos by Lori Carter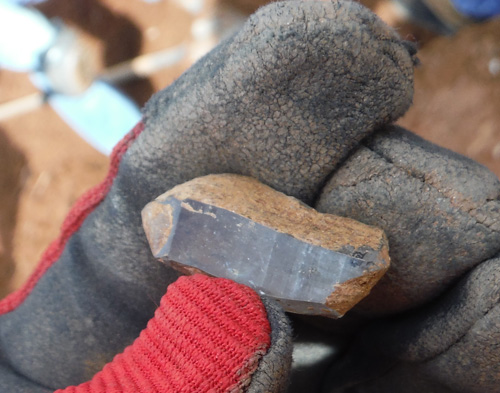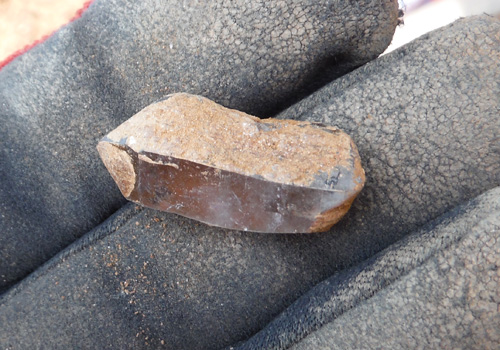 Unidentified positive and negative tracks with possible resting trace
Photos by Lori Carter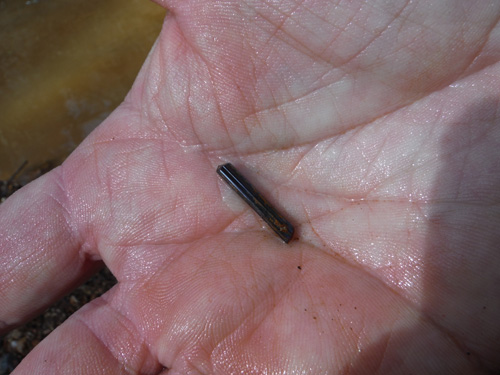 Screening in the creek for rutile
Photos by Mary Rauzi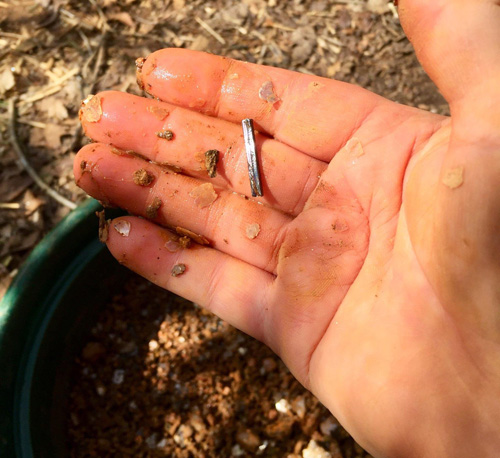 Mary Rauzi found several rutile "needles" by screening
Photos by Lori Carter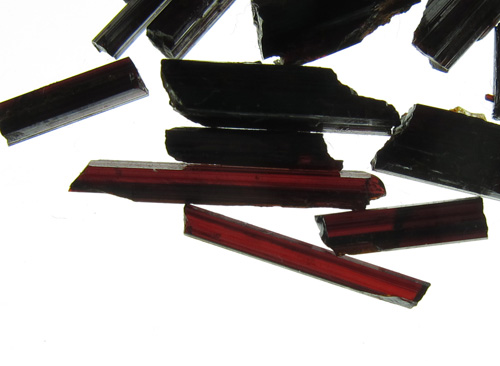 A lot of the rutile is red when viewed with a bright light
Photos by Lori Carter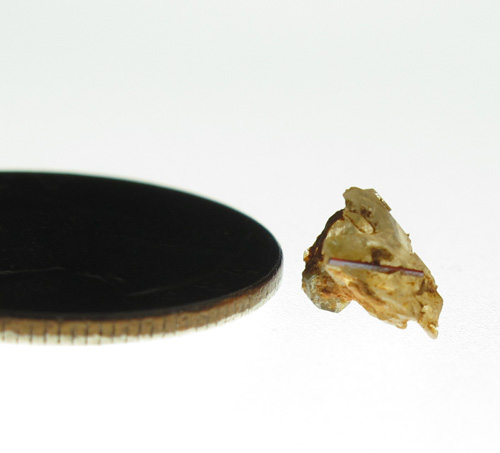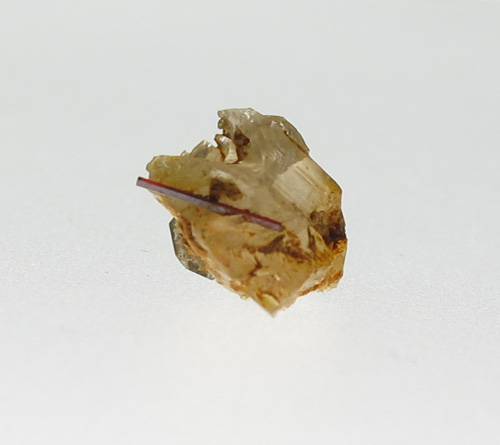 A tiny rutile crystal attached to quartz matrix
Photo by Lori Carter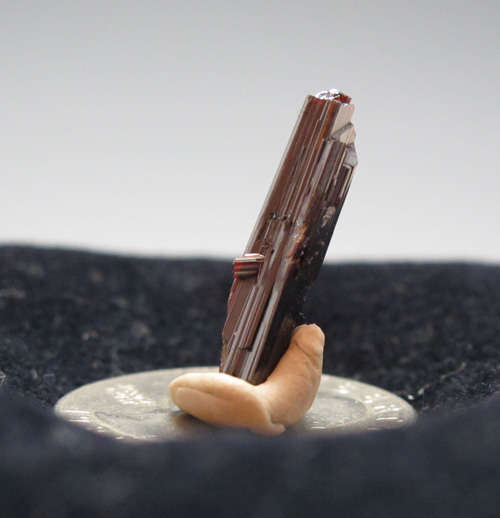 Beautiful rutile specimen
Photos by Lori Carter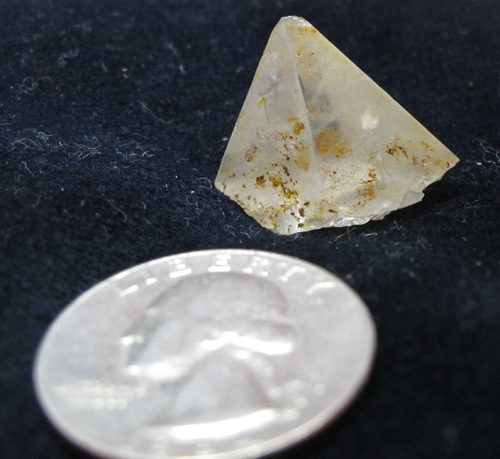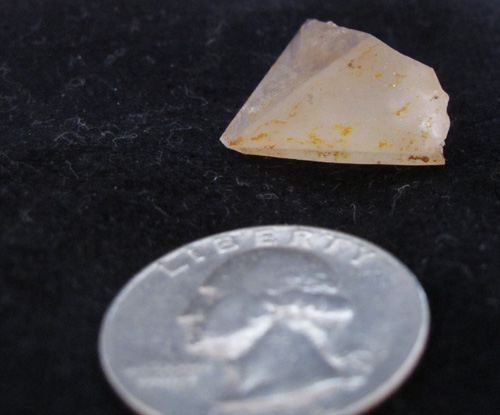 Charles found this quartz with an odd habit. It appears to have only 4 sides,
but there are 2 very thin sides, one is visible in the lower photo.
Photo by Lori Carter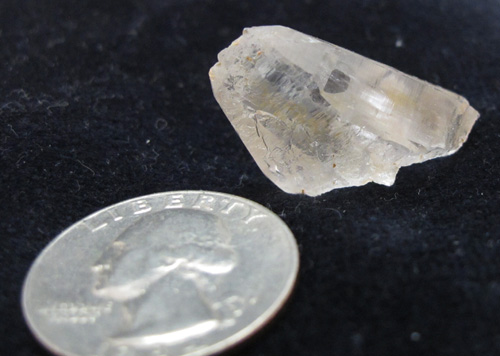 Quartz with a mica inclusion
Photo by Lori Carter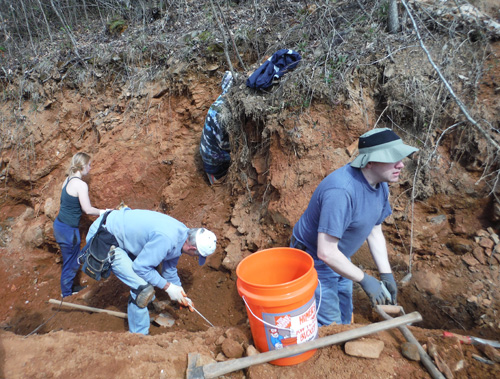 Digging in a large hole along the trail
Photo by Lori Carter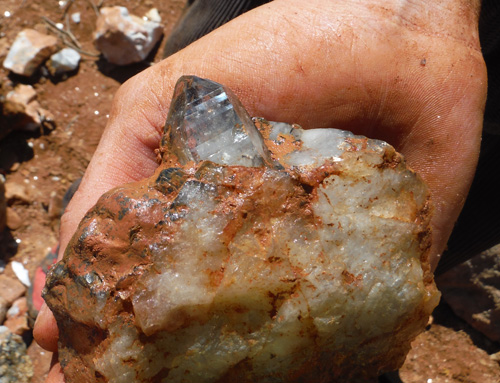 Photo by Mary Rauzi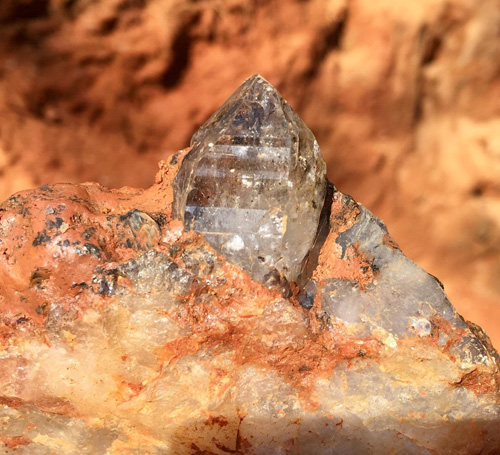 Beautiful crystal in matrix
Photos by Lori Carter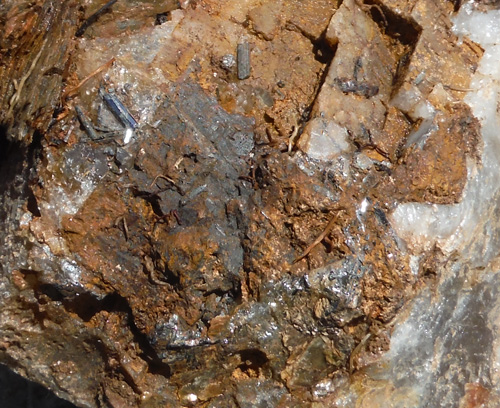 Large quartz specimen with rutile crystals on it
Photo by Lori Carter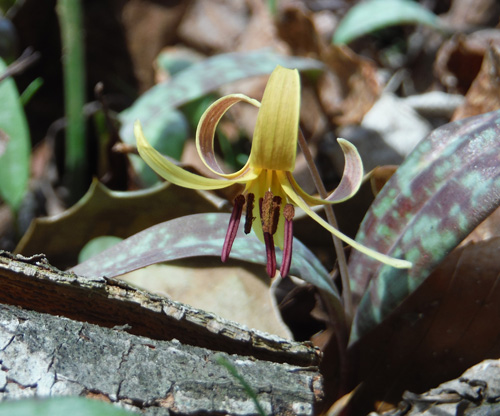 Photo by Mary Rauzi
Trout lilies by the creek
Click below for field trip policies