GMS Field Trip
If you have any questions about field trips send email to
GMS Field Trip
Agate in Georgia
Saturday, March 11, 2017
The location we visited is known for an agate called Savannah River Agate. It is mostly brown with some reds and yellows, plus some white inclusions. The agate takes a nice polish and is known to have been used by Native Americans for arrowheads and spear points.

This trip was small and it was perfect weather for collecting so everyone got some nice pieces. I got 2 different samples of sand, one gray and the other orange. David Bruce found some banded agate with nice fortifications. Daniel Miller found what appears to be a small echinoid fossil and junior member Nathaniel found some shells! Daniel also found a vug with an as yet unidentified mineral. Everyone found plenty of material for cutting and polishing.

After we were loaded up, some people headed up to Augusta for the Aiken-Augusta Rock Show. Daniel and I visited a coaling tower still standing from steam locomotive days. The tower had a hopper where a train would drop a load of coal. The coal was then augered to a conveyer that lifted it to an overhead hopper. We figured out how the hopper was weighed from some scale remnants we found. Another train would be positioned under the hopper and the coal was dropped into the train's coal bin. There may even have been a sand loader. Sand was, and still is, used to provide traction for train wheels on a slippery track or steep grade.

After enjoying a step back into history, we went to the Augusta show. it was a great show! We had a lot of fun there too.

Many thanks to field trip chair Charles Carter for arranging this wonderful trip, and to Daniel Miller for helping manage the trip at the collecting site.

Lori Carter
On behalf of Charles Carter, GMS Field Trip Chair
e-mail:

Location 1 - Savannah River Agate
Photo by Lori Carter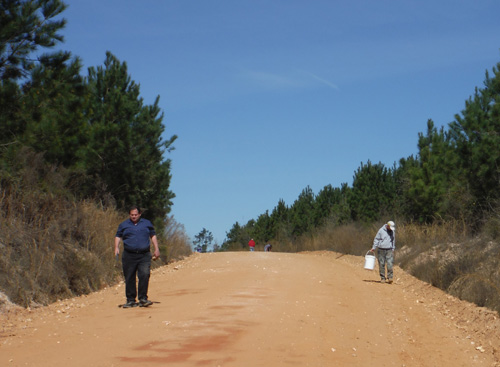 Beautiful day for collecting agate
Photo by Lori Carter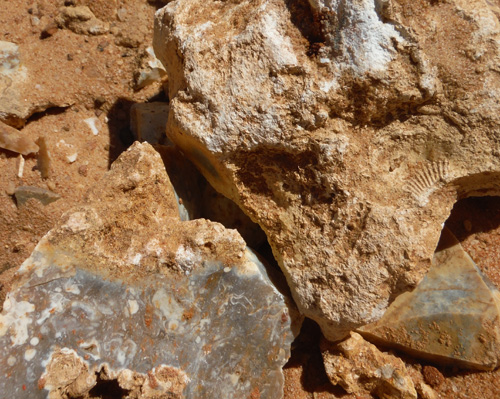 Savannah River agate with interesting white swirls.
Note the shell impression on the right.
Photo by Lori Carter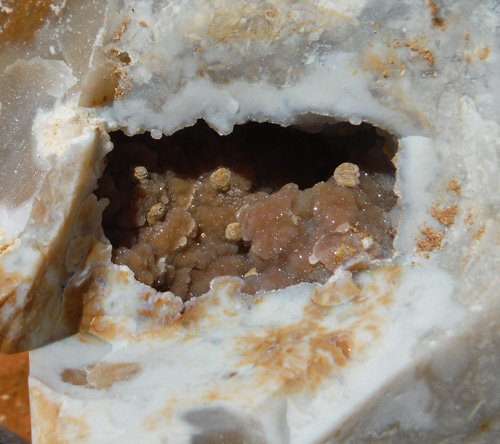 Daniel Miller found this vug of an as yet unidentified mineral
Photo by Lori Carter
Daniel also found what appears to be a small echinoid fossil
Photo by Lori Carter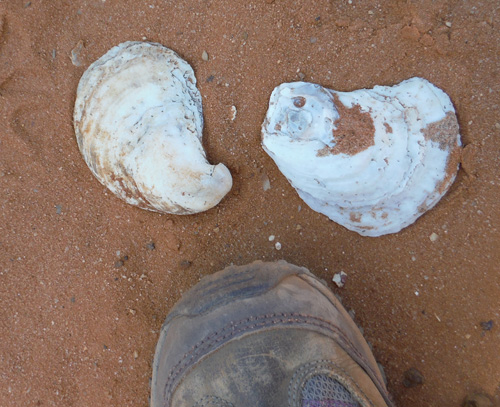 Junior member Nathaniel found these shells
Photo by Lori Carter
David Bruce found this fantastic fortification agate
Location 2 - Coaling Tower
Photo by Lori Carter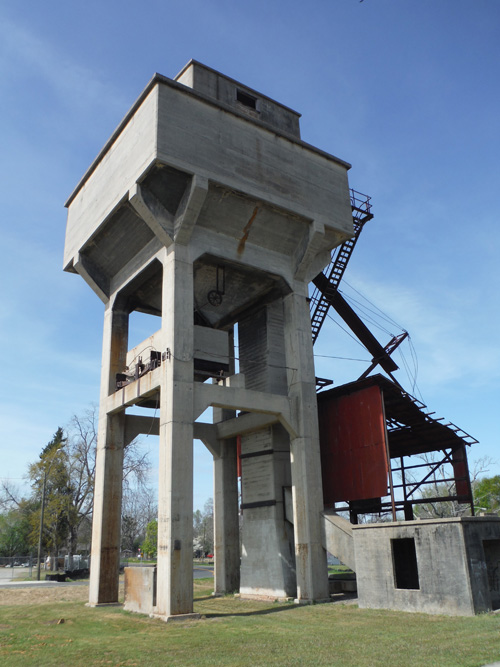 This coaling tower has been standing since the days of steam locomotives
Photo by Lori Carter
The upper coal hopper is visible on the left.
A train would stop underneath it so coal could be dropped into a coal bin on the train.
Photo by Lori Carter
Back side of the coaling tower. Stairs that provide access to the upper area are still intact.
Photo by Lori Carter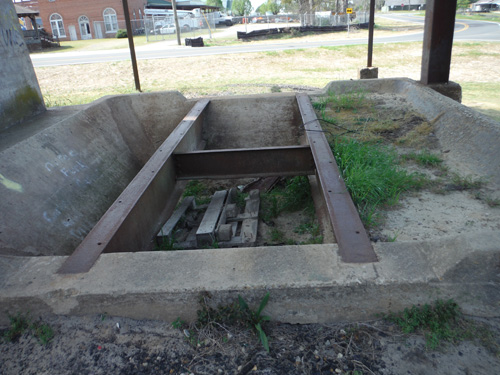 Lower hopper where coal was dropped, then an auger moved it to a conveyer.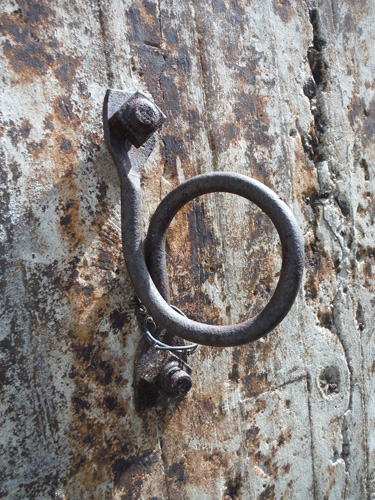 This beautiful iron artifact may have been part of a scale for weighing the coal in the upper hopper
Location 3 - Aiken-Augusta Gem, Mineral & Fossil Show
Too busy enjoying the show and forgot to take pictures. Great show, nice people, lots of fun!
Click below for field trip policies